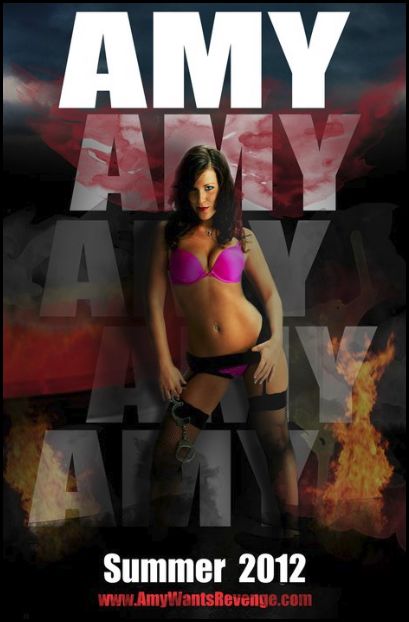 Producers Brian White and Jonathan Koenig ambitiously push the boundaries of independent filmmaking, using the revenge/thriller genre, with their gritty, realistic look at America's ongoing drunk driving problem and how it gruesomely alters the lives of both its victims and perpetrators in their original, full-length feature film, Amy. Because sometimes…revenge is a dish best served…HOT!
Screenwriter/director/producer Brian White (Darkest Night Productions) and director/producer Jonathan Koenig (C-Town Film Factory, Hooka Face and The Virgin Boy – winner of "Best Comedy Short" at the 2010 Atlanta Underground Film Festival) are combining forces to produce a full-length feature film this fall titled Amy.
AMY tackles America's drunk driving epidemic head-on with its visceral and no-holds-barred depiction of how the lives of victims, their families and the lives of the perpetrators are horrifically altered and destroyed by this common tragedy. Amy's raw tale of reflection and retribution weaves clever twists, leaving you guessing until the end, as it breathes new life into the age-old, self-fulfilling prophecy of how karma always comes back around to repay us for our misdeeds.
Brian White has lived in the Northeast Ohio area his entire life. After losing a young relative to drunk driving, White believes that in one way or another, we've all had our lives affected by drunk driving. Filmmaker Jonathan Koenig is joining White with a singular vision to make a feature film that will change the way people view independent features, using unconventional production techniques, a meticulous thought process and most importantly, embracing their work as a labor of love. Their goal is simple: To make an intelligent and captivating film rich in production value and grounded in reality, while leveraging the ever-popular revenge/thriller genre to force viewers to think, and ultimately care about the characters in the film and the events happening onscreen.
Amy is the innocence in us all. She's the innocence that's slowly taken away by society's begrudging decay. She's fragile, easily bruised and on display for all to see. Amy is the vengeance inside of you and me.
Synopsis
A timid college waitress embarks on a night of wild partying with a charming restaurant patron and his misfit group of five friends. The seemingly innocent night of drunken, lewd and stupid behavior yields unimaginable tragic results. A horrific accident forever changes their seven lives as a deadly secret is born, one they all agree to take to the grave with them…all except one. Three years later, the friends unite to celebrate in drunken debauchery once again…this time it's the ultimate bachelor party. Everyone seems to have moved on since that fateful night three years ago. But have they? Someone has revenge on their mind…and they will stop at nothing until they expose the truth and even the score. It's a bachelor party gone awry as karma is tested and proven once again to catch up with you when you least expect it. Do unto others as they've done unto you. This is a twisted tale of justice and revenge, but most importantly…this is the story of Amy.