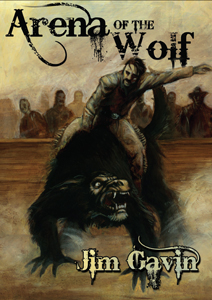 ARENA OF THE WOLF

by Jim Gavin
(Dark Regions Press)
Jerry is an over-the-road trucker with a couple of exes and a few late payments to make. Sometimes it seems like the least of his problems is that he's a werewolf – until he wakes up in the middle of a rodeo where he's the bull! Forced to compete in bizarre, brutal events for the pleasure of a bloodthirsty crowd, where death is "extreme sports entertainment" for the masses. Jerry must choose between a prisoner's life in a world where his curse makes him a star and a life of freedom that he knows can only end one way – a silver bullet through the heart. A desperate man's struggle with despair and hope is just another show in the…
ARENA OF THE WOLF.
Jim Gavin came to my attention with his brilliant take on vampires with "Hard Boiled Vampire Killers" which I reviewed here.
Now Mr. Gavin turns his talents to the Werewolf Mythos and takes it in a new and imaginative direction.
The novella starts out with the tale of Jerry and how he came to be involved in a werewolf rodeo. He intertwines elements of professional wrestling, bull riding and human nature's need to slow down and look at that horrible accident into quite a fascinating story.
The characters are realistic and believable. You come to feel for Jerry and all that he is going through, wondering if you would make the same decisions along the way as he does.
The book then takes a turn that totally caught me off guard and really kicked things up a notch. I really don't want to spoil it for anyone, but Indians, spirit guides, and hallucinogenics play a big part in the rest of the story.
"Arena Of The Wolf" is fast paced, gory, full of action and memorable characters and was just a hell of a lot of fun to read.
I love the way Mr. Gavin tells a story, there is always so much going on and he comes at you from every direction, leaving you guessing about what is going to happen next.
If you are looking for something a little different and very well written in your werewolf fiction "Arena Of The Wolf" may be just what you are looking for and I highly recommend it.