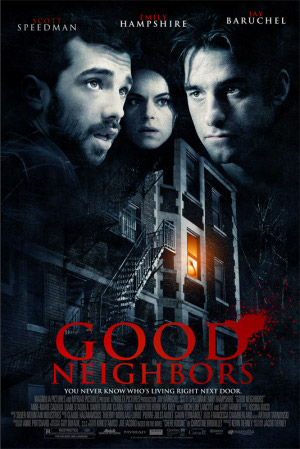 From Magnolia Pictures comes the story of neighbors Spencer (Scott Speedman) and Louise (Emily Hampshire) have bonded over their fascination with a recent string of murders terrorizing their community. When a new tenant named Victor (Baruchel) arrives in the building, all three quickly hit it off. But as they soon discover, each of them has their own dark secret. As the violence outside mounts, the city retreats indoors for safety. But the more time these three spend together in their apartment building, the clearer it becomes that what they once thought of as a safe haven is as dangerous as any outside terrors they could imagine. Smart dialogue, strong performances and jarring thrills give this film all the elements of a great mystery.
[youtube]http://www.youtube.com/watch?v=X7O6WGZUao4&feature=player_embedded[/youtube]
Good Neighbors stars Jay Baruchel, Scott Speedman and Emily Hampshire and will be released July 29th in theaters everywhere, but you can get it on iTunes a few days prior on June 24th.