WHO: ARI LEHMAN
WHAT: THE FIRST "JASON"!!
Actor/Musician : ARI LEHMAN (boy the in lake from Friday the 13th & FirstJason)
MIKE JOY: How old were you when you played Jason Voorhees?
ARI LEHMAN : First of all, Greetings From Camp Crystal Lake to you and all of the Horror News readers. When I was 13 years old, I snuck into an audition for a comedy feature film directed by Sean S. Cunningham, and landed the 80-line role of "Roger". The film was called "MANNY'S ORPHANS", and was about inner city kids who play Soccer. When that film did not do as well as he had hoped, Cunningham was inspired by the film "HALLOWEEN" to create a Horror Film. He came up with the title "FRIDAY THE 13TH", and asked Victor Miller to write a screenplay. Victor's idea was based at a Summer Camp, and they needed someone to play the role of the Jason in Crystal Lake. They remembered me from "MANNY'S ORPHANS", and gave me a call. Sean asked me "Can you swim?". When I answered "Yes," Sean said "Great. You got the part. Come over to my office to sign the contract." I was 14 years old.
MIKE JOY: Were you a horror fan as a kid going into Friday the 13th?
ARI LEHMAN : One of my first memories of Horror is debating with my friends "who was the best Count Dracula – Bela Lugosi or Christopher Lee?" and "who would win in a fight – Frankenstein or The Wolfman?". My favorite Horror Movie was "The Mummy" starring Boris Karloff, after I watched it on the "Chiller Theatre" show all alone late one night. We all went crazy for "JAWS" too!
MIKE JOY: What are your memories from the boy in the lake scene?
ARI LEHMAN : Working with Tom Savini was both a lot of fun and very inspiring. His creative intensity is contagious, and being on the set was a blast. What many people do not know is that the famous final scene was not in the original script; originally the only scene for me was the drowning scene.
Then Sean Cunningham saw the film "CARRIE" and decided that he wanted a similar surprise ending. He, Victor Miller and Tom Savini came up with the ending scene, where I burst out of the water covered in slime, and called me back to the set. Now it was October, as can be seen by the foliage on the trees in the background. Good thing I like swimming in cold water!
Savini asked me not to show the new mask to anyone until after the shoot, so when I jumped up out of the water on the first take, my dear friend Adrienne King, playing Alice, jumped clear out of the boat and into the Lake with a yell! She was then dried off and her hair blow-dried so that we could resume shooting. We got it right the second take, and to her credit, Adrienne looks totally oblivious to the fact that a deranged child covered in pond scum is about to grab her and drag her under. She can ACT!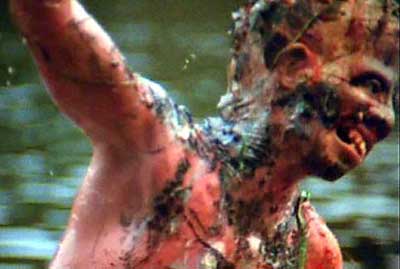 MIKE JOY: Do you have any memorabilia from when you worked on Friday the 13th?
ARI LEHMAN : I do have the original contract that I signed, and the thank you letter from the production company to me, as well as the original New York Times review whch completely panned the film. Savini has the props and effects.
MIKE JOY: What's it like being part of a character and a movie that has become so beloved among horror fans?
ARI LEHMAN : The best part of course, is interacting with the friends and fans of "FRIDAY THE 13TH" and Jason Voorhees. The character of Jason Voorhees is unique. Jason is BRUTAL, but not schemeing, like Freddy, or Nosferatu. He is evil due to a righteous vengance gone horribly awry, a unending vendetta that will never bring his Mother back – BUT JASON CANNOT DIE! Cursed to live forever, on a bloody mission to destroy all within reach.
This indestructible, unheeding aspect of Jason's monstrosity is something that we all can relate to, and I hear from people all over the world who identify with Jason's blind determination. In fact, I just heard from the fans of the Sao Paulo Soccer Team in Brazil, and how their team earned the nickname "Jason Voorhees" because of their undefeated record. Thousands of Brazillian Soccer fans show up in the stadium wearing Jason hockey masks!
Also, as a singer, bandleader and songwriter, having the honor of being the First Jason Voorhees gives me an excellent source of subject matter for my songs, and a motif for my band FIRSTJASON. I am always glad to meet with F13 devotees at conventions and festivals, and now with FIRSTJASON, I can truly do something of quality to actively dedicate myself to them.
MIKE JOY: Am I asking you too many Friday the 13th questions?
ARI LEHMAN : Not at all! Have you ever wondered why F13 is so popular? In the 70's we had some superb, underworldy, philosophical, and usually female-driven vehicles like "THE EXORCIST", "ROSEMARY'S BABY" and "CARRIE". But it was when "JAWS" burst out of the water that the audience remembered how much it loves a good MONSTER MOVIE. F13 is similar to "JAWS" in many repects.
"JAWS" shocked us all by taking a usually safe, happy, location –
Summertime at the beach, and transforming it into a place of sheer terror. F13 does the same thing, transforming the safety and fun of a Summer camp into a bloodbath. Jason, jumping up out of the icy waters of Crystal Lake at the end remonds us of that shark again – Jason is "JAWS in the woods!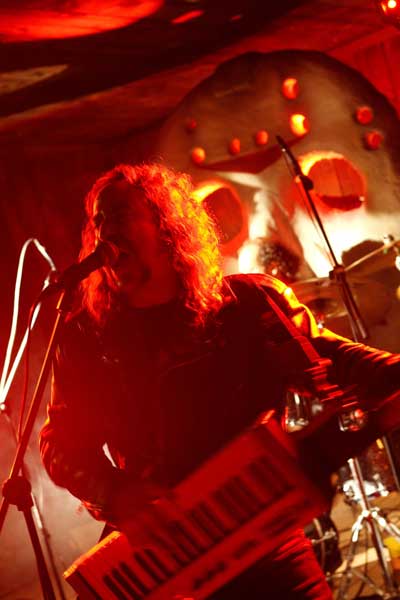 MIKE JOY: What do you think of the recent Friday the 13th remake?
ARI LEHMAN : It was a BLAST! Derek Mears does an amazing job as Jason – NOW he's faster, smarter, more clever. Has Jason been watching sef-help videos?
MIKE JOY: Who would win in a fight – Michael Myers or Jason Voorhees?
ARI LEHMAN : Obviously JASON VOORHEES! Although I liked the recent Rob Zombie version, the Michael Myers character never worked for me. That Bill Shatner mask!
MIKE JOY: How did your group FirstJason get started?
ARI LEHMAN : I have been a professional touring and recording artist throughout the years since "FRIDAY THE 13TH", travelling all over the US, Europe and even West Africa performing for Interscope Records, and Tuff Gong Records, Bob Marley's very own record label. At that time I peformed Reggae and World music, and I eventually had my own Reggae/World band as well. When I first started doing the Horror Convention circuit around five years ago, I took note of the growing Horror/Punk/Metal scene. I started FIRSTJASON at the urging of these fans, who knew that I was a musician, and wanted to see what would happen if the First Jason Voorhees fronted a Punk/Metal band.
I formed FIRSTJASON here in Chicago, featuring Nefarious from MACABRE on Bass, and Cleaver, a NYC friend of mine, who tours with CRO-MAGS, on Drums. We started touring around the MidWest and South, performing at Horror events. Here is an exerpt from a recent review of our live show:
"Like young Jason rising from the deep to take his prey, First Jason caught me by surprise. Lehman didn't just play the keytar, he melted that motherf*cker. He didn't just sing songs about Jason, he sang them with a passion and a power that was above and beyond what the subject matter called for. When, toward the end of the set, he threw a Jason mask my way, I put it on and started banging my head, smiling like a maniac. I was glad I stuck around."
(First Jason played at Station 4 in St. Paul, Minnesota on 3/21/09) MP Johnson – Freak Tension (Mar 23, 2009)
I am happy to report that FIRSTJASON and I just returned from a very successful concert at the FESTIVAL DE CINE DE TERROR in Spain, in the town of Molins de Rei, near Barcelona, where we rocked the sold-out crowd. The festival promoters comissioned a giant Hockey Mask as a backdrop for the stage, with lights and fog, all outdoors under the Spanish moon. METAL!!!
MIKE JOY: What is your music about?
ARI LEHMAN : Jason Voorhees is silent, so FIRSTJASON is the Voice of Jason. We play a powerhouse blend of Punk/Metal, all original songs from the inner workings of Jason's mangled mind. Our debut release, "JASON IS WATCHING" features songs like "JASON NEVER DIES", "RED RED RED", and "MACHETE IS MY FRIEND".
"JASON IS WATCHING" recently received 4.5 out of 5 stars from DREAD CENTRAL.COM's Music Critic, Scott A. Johnson. Here is an exerpt:
"The songs on this album are catchy and show real musicianship with tight melodies and vicious hooks. "Red Red Red" is one of those songs that you'll catch yourself singing to yourself at inappropriate times because you can't get the damned thing out of your head (trust me…I speak from personal experience here). "Soul Seller" is excellent because the
funk-inspired bassline is infectious, and unexpected, and the song genuinely rocks. And the impressive hooks on "Jason Never Dies!" is a testament to Lehman's keyboard prowess…You may have seen Lehman at conventions, but until you hear his band you don't know him. Not just another actor with a band, Lehman is a real musician, and the music on this CD is diverse enough to prove it."
Scott Johnson – DREAD CENTRAL (Aug 31, 2009)
MIKE JOY: Does FirstJason have any groupies?
ARI LEHMAN : Of course, the JASONETTES. And the MACHETE MAMAS too…!
MIKE JOY: What's the best crowd you've ever played for?
ARI LEHMAN : That show we just did in Spain was pretty amazing – a sold-out crowd who was genuinely appreciative that we came all the way from the USA to ROCK! But then, we have been warmly received all over the MidWest and South too. TEXAS FEAR FEST with Misfit Michale Graves was MASSIVE, and the mosh pit at the last HORRORHOUND WEEKEND in Indianapolis was a BUCK WILD BLAST!
MIKE JOY: Are there any bands that inspire you to create your music?
ARI LEHMAN : SOUNDGARDEN, MOTORHEAD, MACABRE, SODOM, BAD BRAINS, DEAD KENNEDY'S, BLACK SABBATH, IRON MAIDEN, DETHKLOK, BAD RELIGION, NOFX, KING'S X, etc., etc…
MIKE JOY: How can someone book you for a gig?
ARI LEHMAN : FIRSTJASON is ready to rock and easy to book – we have many shows booked already extending to September of 2010, but there are plenty of dates available. Our MySpace www.MySpace.com/firstjason is the best way to reach us, and there are songs posted there too. FIRSTJASON is a proven draw at Horror Conventions and events…2010 is F13's 30th Anniversary!
MIKE JOY: There's a lot of Horror Cons out there these days. Do you have a favorite Horror Con that you've attended?
ARI LEHMAN : I feel that every convention has it's own special advantages. I recommend that the readers of Horror News attend events from the entire spectrum. From small Independent Film Festivals, to Horror-Rock nights at local music venues, up to the big industry-sponsored Horror Conventions, where you can actually meet the actors from the Feature Films. I am the Musical Director for TEXAS FEAR FEST, where FIRSTJASON appears every year
alongside some major talent. Last year we booked MACABRE, EERIE VON from Danzig, MICHALE GRAVES from The Misfits, and Texas Horror-Punk powerhouse THE HORRIFICS, to perform with us. This year, they are doing a special 30th Anniversary ALL FRIDAY THE 13TH event called "CAMP BLOOD" at a hotel that is situated on a 100-acre campground, with hiking trails, and lakes. Guests will be invited to "camp out" with the cast of "FRIDAY THE 13th"!
MIKE JOY: Tell us something about what "Terror Overload" and what part you play?
ARI LEHMAN : "TERROR OVERLOAD" is a wonderfully tawdry bit of fun, in which I play "Ray Rae", the owner-operator of a backwoods bordello, in which his sisters are the hookers. I end up getting killed by a CHUPACABRA! The segment that I was in, "MONGO CHUPA", was written by that demented genius, Joe Knetter. I strongly recommend viewing this if you are in the mood for Horror FUN.
MIKE JOY: You are also in a project called "Night on has been Mountain" , that sounds interesting?
ARI LEHMAN : I did a take on Cesar Romero's Joker in my voice-over for this film in which I play the Invisible Man in a few brief scenes…
MIKE JOY: Are there any other film projects that you are working on?
ARI LEHMAN : I recently played a Demonic Angel/Pimp in "MASTER'S DEVILS" from LEGION STUDIOS, a sexually charged underworld story of a gang of Demonic Vixens. The costume is amazing – Purple Pimp's outfit with gold chains, rings and a skull-headed cane, with black feathered wings, and horns on my head!
MIKE JOY: Do you have any interesting behind the scenes tales for any of your recent projects?
ARI LEHMAN : I composed and recorded the soundtrack for an upcoming Horror-Musical Comedy called "WICKED LITTLE PRINCESS", based on a Shirley Temple film, but now Shirley is a slasher in a sorority house. I worked together with Chicago South Side DJ's Risky and Ryan B, and we used DUKE ELLINGTON ORCHESTRA tracks to capture the old-time vibe. The combination of Big Band Swing Era Jazz with South-Side Hip-Hop Beats is CHRONIC LIKE JASONIC!!!
Also VAMPIRA: THE MOVIE, for which I composed, performed, and recorded the soundtrack, got the Rondo Hatton Classic Horror Award for Best Indy Film! Horror Star Bill Moseley contributed some vocals and Theremin for six WILD Bonus Tracks for the Soundtrack CD! (Available at Amazon and Oldies.com)
Listen here: www.FIRSTJASON.com/music.html 
MIKE JOY: What's next for Ari Lehman?
ARI LEHMAN : "THE CURSE OF CRYSTAL LAKE", 1/2 Rock Opera, 1/2 multi-media stage presentation, featuring myself and FIRSTJASON telling the TRUE story of how Jason came to life, using music, live action and film is in the works. We will be touring this production in theaters throughout the USA. Also, I have been cast to play the LEAD role in the remake of a Classic Horror film, about which I am very excited, but I can say more! TOP SECRET!!!
Please visit me at www.FIRSTJASON.com to see photos from our recent concert in Spain, listen to our music, and view some recent promo videos.
Many Thanks From CAMP CRYSTAL LAKE!!! And remember…
JASON NEVER DIES!!!!!!!!!!!!! – Ari Lehman/Jason The First