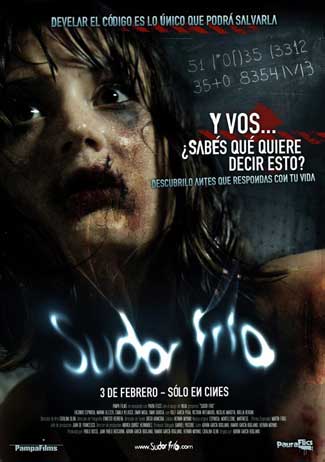 SUDOR FRIO, or COLD SWEAT as it is billed in the United States of America, is a horror movie from Argentina about a man desperately trying to rescue his missing girlfriend from a house of horrors.
SUDOR FRIO is a landmark film for Argentinia because it is the first time in the country that a horror film has reached nearly fifty thousand spectators during its first week in over 50 years.
SUDOR FRIO was directed by Adrian Garcia Bogliano and stars Facundo Espinosa, Marina Glezer, and Camila Velasco. The film will make its international debut at the South By South West Film Festival that will run from March 11-19 2011. You can find out more information about this event at the official website located here: sxsw.com/
Synopsis:
"The film plot revolves around a young man searching for his missing girlfriend. A staunch friend willing to do anything to uncover the truth. An investigation that culminates in an old house. Inside the expected two brutal murderers, armed with twenty-five boxes of explosives were missing from the last military dictatorship." 
Read more about this film at the Official Website: www.sudorfrio.com/. Or you can follow them on FaceBook: www.facebook.com/sudorfrio.
Source: www.sudorfrio.com/