BIO:
Gaither is one of Kentucky's most unusual and well known artists. Born in Louisville in 1960, Jeff has been practicing his particular blend of horror and rock art for over 30 years. To quote R. Scott Bolton/Editor, Rough Edge; "Jeff Gaither's work is an artist whose unmistakable style is a perfect complement to music for that perfect marriage of sight and sound." Gaither was introduced to art by his mother and aunt whom both were always drawing, painting or somehow involved in theater. Considering the quality of his paintings and the scope of his projects, most people would be surprised to learn that Jeff is actually self taught.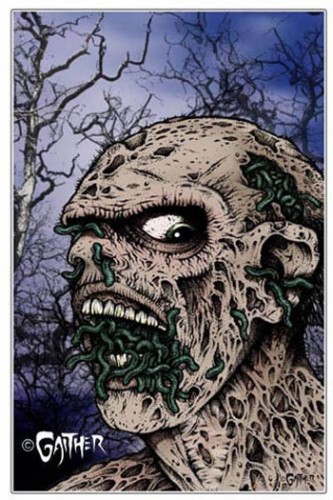 Sal Canzonieri (Electric Frankenstein / Fistful of Rock & Roll) states "Jeff Gaither has the talent and skills to both create an exciting image and tell a great story within the image. Not many artists are able to be as dynamic as Jeff in their graphics, showing a huge range between the subtle and the grisly! Never gory for the sake of merely showing blood and guts, Jeff is able to show a sense of humor, and a strong connection to the cherished cultural imagery of our youth ( la Rat Fink, Famous Monsters, Punk Rock, Mad magazine) that draw you into his wild and wooly illustrations!"
Nationally you may have seen his art on CD covers and/or shirt designs on one of the hundreds of bands and personalities he has done work for such as: Municipal Waste, Testament, The Misfits, The Undead, Hirax, The Accused, Agoraphobic Nosebleed, GG Allin, The Murder Junkies, Guns-N-Roses, Dawn of the Dead zombies and many more. Locally, you may have seen Jeff's art on cover of The Leo Weekly, Velocity, Louisville Music News, Wired and annual posters for The Forecastle Festival, The Kentucky Psychological Association's "Heads-Up" exhibit or for the St. James Art Show poster and more.
Jeff has even worked under the legendary Ed"Big Daddy" Roth" creating shirts and comics for him back in the 80's. Recently, Jeff is designing advertising posters for and appearing at horror conventions all over the United States to meet his legions of fans in person. Gaither is unbelievably prolific, creating art for an estimated 300+ music CD/LP covers, 2000+ magazine covers, and his art appears worldwide on posters, prints, skateboards, glassware, stickers, magazines, book covers . . . the list does, and will, go on.