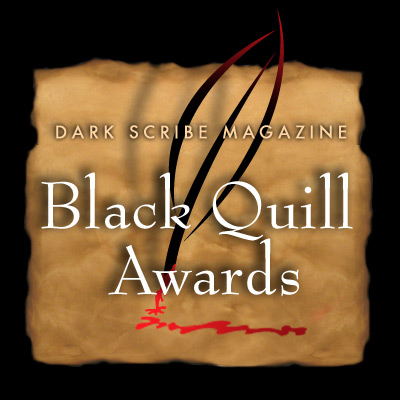 STRAUB, FILES TAKE TOP HONORS IN BLACK QUILL AWARDS
LONG ISLAND, NY, February 1, 2011 — A dark fiction veteran and an acclaimed first-time novelist have taken top honors in the 4th Annual Black Quill Awards, as winners were announced today by DARK SCRIBE MAGAZINE, the virtual magazine "dedicated to the books that keep readers up at night."
Bestselling legend Peter Straub's A DARK MATTER won DARK GENRE NOVEL OF THE YEAR (Editors' Choice), while Nate Kenyon claimed the Readers' Choice award in the same category for his apocalyptic thriller SPARROW ROCK. Straub and Kenyon emerged victorious in a category crowded with literary star power that included Stephen King, Justin Cronin, China Miéville, and David Zeltserman.
Canadian dark fiction darling Gemma Files earned double honors for her genre-defying debut novel, A BOOK OF TONGUES, taking home both the coveted Editor's Choice and Readers' Choice awards for BEST SMALL PRESS CHILL. It's the first time anyone has won both awards in a literary category.
The Black Quill Awards were handed out in (7) categories honoring works of dark genre literature – horror, suspense, and thrillers – from both mainstream and small press publishers. While six of the awards recognized literary efforts, one of the awards recognized book trailer production — a growing marketing aspect of dark genre publishing. Two-time Black Quill Award winners Circle of Seven Productions added a third and fourth award to their tally by sweeping the BEST DARK GENRE BOOK TRAILER category this year with their work on Douglas Clegg's NEVERLAND trailer.
Michael Louis Calvillo proved that he was no one-hit wonder as he earned his second consecutive Black Quill Award, this time in the BEST DARK GENRE FICTION COLLECTION category (Readers' Choice) for BLOOD AND GRISTLE. He won last year for his debut novel AS FATE WOULD HAVE IT in the BEST SMALL PRESS CHILL category (Readers' Choice). First-time nominee Laird Barron took home Editors' Choice in the same category for his collection OCCULTATION. Fresh from her win last year in the BEST DARK GENRE ANTHOLOGY category (Readers' Choice) for editing work on POE: 19 NEW TALES INSPIRED BY EDGAR ALLAN POE, prolific genre editor Ellen Datlow added another Black Quill to her ever-growing list of honors for her editing work on HAUNTED LEGENDS. She shares the Editors' Choice award with co-editor Nick Mamatas. Co-editors R.J. Cavender and Boyd E. Harris took home their first Black Quill in the same category (Readers' Choice) for editing duties on HORROR LIBRARY IV.
Editors David Morrell and Hank Wagner took Readers' Choice honors in the BEST DARK GENRE BOOK OF NON-FICTION category for their essay collection THRILLERS: 100 MUST READS, while first-time nominee Thomas Ligotti earned Editors' Choice honors in the same category for his THE CONSPIRACY AGAINST THE HUMAN RACE. Elsewhere, Canadian sci-fi scribe Peter Watts and veteran mass-market scribe Bentley Little earned Editors' Choice and Readers' Choice nods, respectively, in the BEST DARK SCRIBBLE category. Watt's short story "The Things" ran on the virtual CLARKESWORLD MAGAZINE website, while Little's "We" appeared in CEMETERY DANCE #64.
Nominations for the Black Quills are editorial-based, with both the editors and active contributing writers submitting nominations in each of the (7) categories. Once nominations are announced, readers of DSM cast their votes for their picks in each category. For this year's outing, more than 4,600 votes were cast by the magazine's readers. In a unique spin intended to celebrate both critical and popular success, two winners are traditionally announced in each category – Reader's Choice and Editor's Choice. Winners receive recognition in DSM, inclusion in press release materials announcing nominations and winners, a virtual icon to be used on their own website, and a handsome award certificate.
A complete list of all the nominees and winners follows:
DARK GENRE NOVEL OF THE YEAR: (Novel-length work of horror, suspense, or thriller from mainstream publisher; awarded to the author)
• A DARK MATTER by Peter Straub (Doubleday) WINNER – EDITORS' CHOICE
• KRACKEN by China Miéville (Del Rey)
• SPARROW ROCK by Nate Kenyon (Leisure / Bad Moon Books) WINNER – READERS' CHOICE
• THE CARETAKER OF LORNE FIELD by David Zeltserman (Overlook Hardcover)
• THE PASSAGE by Justin Cronin (Ballantine)
• UNDER THE DOME by Stephen King (Scribner)
BEST SMALL PRESS CHILL: (Novel or novella published by small press publisher; awarded to the author)
• A BOOK OF TONGUES by Gemma Files (ChiZine Publications) WINNER – EDITORS' and READERS' CHOICE
• DREAMS IN BLACK AND WHITE by John R. Little (Morning Star)
• INVISIBLE FENCES by Norman Prentiss (Cemetery Dance)
• THE CASTLE OF LOS ANGELES by Lisa Morton (Gray Friar Press)
• THE WOLF AT THE DOOR by Jameson Currier (Chelsea Street Editions)
BEST DARK GENRE FICTION COLLECTION: (Single author collection, any publisher; awarded to the author)
• BLOOD AND GRISTLE by Michael Louis Calvillo (Bad Moon Books) WINNER – READERS' CHOICE
• IN THE MEAN TIME by Paul Tremblay (ChiZine Publications)
• LITTLE THINGS by John R. Little (Bad Moon Books)
• OCCULTATION by Laird Barron (Night Shade Books) WINNER – EDITORS' CHOICE
• SUMMER, FIREWORKS, AND MY CORPSE by Otsuichi (VIZ Media LLC)
BEST DARK GENRE ANTHOLOGY: (Multi-author collection, any publisher; awarded to the editor)
• DARK FAITH Edited by Maurice Broaddus and Jerry Gordon (Apex Publications)
• DEAD SET: A ZOMBIE ANTHOLOGY Edited by Michelle McCrary and Joe McKinney (23 House)
• HAUNTED LEGENDS Edited by Ellen Datlow and Nick Mamatas (Tor) WINNER – EDITORS' CHOICE
• HORROR LIBRARY IV Edited by RJ Cavender and Boyd E. Harris (Cutting Block Press) WINNER – READERS' CHOICE
• WHEN THE NIGHT COMES DOWN Edited by Bill Breedlove (Dark Arts Books)
BEST DARK GENRE BOOK OF NON-FICTION: (Any dark genre non-fiction subject, any publisher; awarded to the author[s] or editor[s])
• HORRORS: GREAT STORIES OF FEAR AND THEIR CREATORS by Rocky Wood (McFarland)
• I AM PROVIDENCE: THE LIFE AND TIMES OF HP LOVECRAFT by S.T. Joshi (Hippocampus Press)
• NIGHT OF THE LIVING DEAD: BEHIND THE SCENES OF THE MOST TERRIFYING ZOMBIE MOVIE EVER by Joe Kane (Citadel)
• THE CONSPIRACY AGAINST THE HUMAN RACE by Thomas Ligotti (Hippocampus Press) WINNER – EDITORS' CHOICE
• THRILLERS: 100 MUST READS Edited by David Morrell and Hank Wagner (Oceanview Publishing) WINNER – READERS' CHOICE
BEST DARK SCRIBBLE: (Single work, non-anthology short fiction appearing in a print or virtual magazine; awarded to the author)
• "Bully" by Jack Ketchum (Postscripts 22/23)
• "Goblin Boy" by Rick Hautula (Cemetery Dance #63)
• "Secretario" by Catherynne M. Valente (Weird Tales, Summer 2010)
• "The Things" by Peter Watts (Clarkesworld, January 2010) WINNER – EDITORS' CHOICE
• "We" by Bentley Little (Cemetery Dance #64) WINNER – READERS' CHOICE
BEST DARK GENRE BOOK TRAILER: (Book video promoting any work of fiction or non-fiction; awarded to the video producer or publisher)
• NEVERLAND / Produced by Circle of Seven Productions (for the book by Douglas Clegg) WINNER – EDITORS' and READERS' CHOICE
• RADIANT SHADOWS / Produced by Circle of Seven Productions (for the book by Melissa Marr)
• SPECTERS IN COAL DUST / Produced by Michael Knost & Black Water Films (for the anthology edited by Michael Knost)
• UNDER THE DOME / Produced by Scribner Marketing (for the book by Stephen King)
• UNHAPPY ENDINGS / Produced by Delirium Books (for the book by Brian Keene)
Link: www.darkscribemagazine.com/winners-of-the-4th-annual-blac/
Attachment: Black Quill Awards Winners Logo