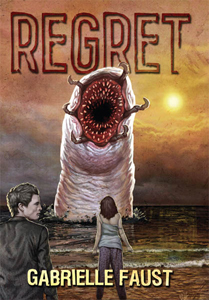 REGRET
by Gabrielle Faust
(Dark Regions Press)
Humanity is renowned for placing the blame for their most unspeakable actions in the palms of their "demons."  It would seem that for every crime, every indecency there is a minion of the Underworld assigned to it. The lucky ones balance precariously on the edge of damnation, always managing at the last minute to halt their impending doom.  The unlucky ones succumb entirely or, in Marcus Glenfield's case, find themselves following a much darker path than they ever could have imagined. After a strangely brutal twist of fate, Marcus becomes his own inner demon, that of the Demon of Regret. As he begins his new life as a tempter and collector of mortal souls, his path of damnation unfortunately crosses with that of Sonnellion, the Demon of Hatred, Cresil, the Demon of Slovenliness, Vetis, the Tempter of the Holy and finally Belial himself, the Prince of Wickedness. Through each of his interactions, Marcus gleans valuable insight into the purpose of his fellow demons within the greater hierarchy of existence, assisting his personal mission to collect the one soul that continues to preoccupy his every thought. However, will the wisdom of Hell's ancient minions be enough to save him from a deadly encounter with Belial or does Hell have another plan for Marcus altogether?
I've read a lot of good things about Gabrielle Faust (this is my first book by Ms. Faust) and after reading "Regret" I can understand all the accolades bestowed on her. I will be definitely looking to read all of her work.
"Regret" is a dark disturbing tale that paints a bleak picture of the afterlife where demons hunt for the souls of the living, dragging them back to the underworld to be fed to the Beast.
Her writing is haunting and ornate. Her description of what awaits us is original, and quite frankly terrifying.
I especially love her main character Marcus and how he accepts what he has become and pursues what he has to do with vigor and determination no matter the consequences.
Her nightmarish landscapes are far worse than what we have been taught about Hell and its minions.
At a short page count of 140, this book is nothing short of powerful. What it lacks in page count, it more than makes up for in substance and gloom, it will taint you with its horrors, while you say to yourself…it is only a book…it is only a book.
Dark Regions Press has released another winner, as they seem to always do. The cover and interior art by Frank Walls greatly adds to the dark mood of the book.
If you like your fiction short, powerful and disturbing head on over to Dark Region's website and pick up Gabriella Faust's "Regret", you won't regret it.