Buffalo, New York – Just when you thought it was safe to go back into the snow… Lockport, New York native Sam Qualiana is unleashing a new ancient terror on locals: SNOW SHARK: ANCIENT SNOW BEAST. "Frozen in the ice for thousands of years… the beast has finally awoken."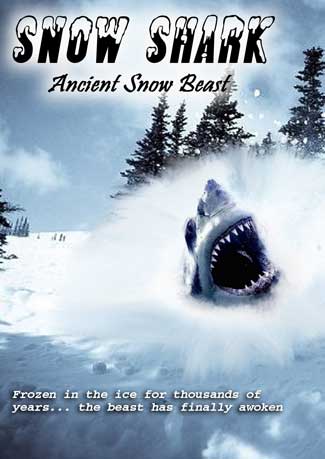 Qualiana, a recipient of the Buffalo Screams Horror Film Festival's "Filmmaker to watch" award, is the writer-director-cinematographer of this independent horror film currently shooting in the Buffalo area. The high concept project, which is being played straight, came together quickly; in true Roger Corman fashion, Qualiana had a title, a poster, and even a teaser before he had completed the script.
"I always have had a fear of sharks," says the 24-year-old filmmaker. "Not a lot of things scare me, but sharks terrify and fascinate me at the same time. I can't go very far into the ocean without turning around and even swimming in a lake gives me the willies. No other creature has freaked me out so much. Crocodiles never even bothered me and they can go on land and water. But the thought of a shark on the land seemed like something insane but horrifying to me. It was going to just be a short to re-boot something I had made years ago but all the buzz and support I got made me turn it into a feature."
Buffalo has recently become a hot spot for low budget horror films, including Greg Lamberson's SLIME CITY MASSACRE, Emil J. Novak's zombie anthology DECAYED, and Michael O'Hear's currently lensing vampire drama DUSK. Qualiana and actress Jackey Hall (CHAINSAW CHEERLEADERS, TRICK OR EAT) head the SNOW SHARK cast, which includes a number of actors who appeared in the aforementioned genre flicks: O'Hear, Robert Bozek, Chris Wroblewski, and John Renna, who is also contributing special make-up effects.
Qualiana views his creation as a cross between JAWS and THE THING. The action begins when a team of animal biologists stumbles upon a great discovery that ends in tragedy. Seven years later, several locals disappear. In the present, a new team of Crypto-zoologists seeks the truth behind the legend of the Ancient Snow Beast.
"Production has gone smoothly so far," says Qualiana. "It's been rough with the cold weather and trying to keep snow out of the camera lens, but we've had a pretty good setup so far to prevent the snow from ruining any shots. I'm hoping to have it filmed before May and ready for the festivals soon after."
Like many other micro-budget filmmakers, Qualiana is attempting to raise his budget through an online fundraising organization. "We have started a fundraiser on Indiegogo.com where we are asking for a goal of $3,000 to put towards helping fund the film. It's a great way to get in touch with other independent filmmakers and fans that want to help support the film even if they can't be around to lend a hand."