You are going to be part of The Last Starfighter reunion coming to Monstermania in Cherry Hill, NJ on March 11 – 13. At the time of this interview, Lance Guest and Nick Castle are also announced.
What do you think of doing these types of Conventions?
I think that they are a lot of fun! I'm always amazed at the enthusiasm of the fans. So often a whole family is involved, even dressing up or wearing make-up of their favorite characters! It's a take on family bonding that you don't hear much about! (Do I hear Reality Show?) As crazy as these conventions can seem on the outside, I find the fans extremely civilized and respectful.
Have you kept in touch with Lance or Nick, or anyone else from The Last Starfighter cast?
Yes, absolutely. I have been living in NY for sometime now and lost touch with them, but I began going back to LA for periods of time for work, and we all re-connected. It was fantastic! We all went out for dinner one night and discussed a possible sequel. I was also in LA for the 25th Anniversary screening. Lots of people were there. Many of them were from the technical side. You know that TLS was truly ground breaking in terms digital special effects. These brilliant human beings were literally creating programs for the special effects that are the foundation for digital special effects today. I really had no idea! Lance Guest is now living here in NY and starring in the Broadway smash hit "Million Dollar Quartet". Lance is fantastic portraying Johnny Cash in the show. It's hard to believe Alex from The Last Starfighter is Johnny Cash, but he's amazing!! We get to see each other when ever we want now.
I always loved the concept of The Last Starfighter. I went to high school in the 80's and my knowledge of video games have pretty much stayed there despite all the technological advances. My favorite video game is PacMac and I still play it whenever I find an old arcade game in the lobby of a diner. Do you have a favorite video game?
As much as I would love to say that I was into video games, it would be dishonest. I did have my share of hours spent on PacMan back in the day. I married a man who owns a big old "Missile Command" video game. He is a pro on the thing and my kids have followed in his footsteps. I just like watching them compete!
If I can pick your memory for a second, can you think of any interesting behind the scenes moments during the filming of The Last Starfighter that you might want to share with your fans?
Shooting The Last Starfighter was a dream job, really. It was my first feature film in the U.S. and I was also working on Days of Our Lives at the same time. It was pretty cool holding down two jobs at once; shooting TLS at night and DOOL during the day. Nick Castle was a dream to work with. This was his baby and he was obviously enjoying the process on the set, so that made it enjoyable for everyone involved. All the other actors in the movie were lovely. There was not a diva amonst any of them. Lance was wonderful to work opposite. He took the process very seriously and brought the best out of me as did Nick Castle, the director. I suppose my favorite moments on the set involved the whole sequence of events where we were at the lake making out and Alex II gets shot and I realize he's a Beta Unit. I love action so the whole leaping into the truck, speeding off, leaping out of the truck, exploding truck, "I love you Alex Rogan…" was super fun! Also, something I'll never forget was when I got to meet Robert Preston. Remember, I didn't have any scenes with him, so it was by chance that we were at the studio shooting pick-up scenes on the same day. He was leaving as I arrived. We were introduced and he took my hand and kissed it saying, "It is a pleasure to meet you Catherine". I literally swooned! He truly seemed to glow. A real movie star! The Last Starfighter was his last movie, sadly.
You have been in a number of 80's movies that have reached cult like status – The Last Starfighter and Night of the Comet come to mind. Do you ever get tired of answering questions about movies that are nearly 30 years old?
You have to understand that there was a big gap between when I did these movies and the renewed interest from my perspective. Al I appreciate it so much and certainly do not take it for granted. In other words, I love and appreciate all the fans out there. Bring it on!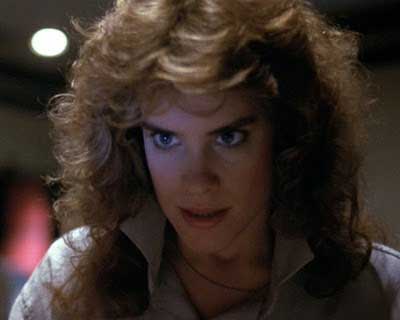 Have you ever sat down and watched either one of those movies with your kids?
I don't think I've actually sat down and watched them WITH my kids, but they have watched them. In fact a few years ago they both decided to have separate sleepovers for their birthdays and both invited like 10 friends. They screened a bunch of movies, including both The Last Starfighter and Night of the Comet. It made me smile. Maybe they aren't too embarrassed by their old mom…;)
Night of the Comet is a personal favorite. I've seen a number of movies that you've been in , but this is the movie that I remember you from the most. The scenes in the vacant streets – the vacant mall – where were those shots filmed?
We shot entirely on location in LA. I'm asked this question a lot, because it would be impossible to shoot the scenes in downtown LA on a regular day and be able to hold back the traffic. We shot first thing Christmas morning, I believe. It was fantastic. There was not a soul around. Apparently if you look VERY closely in one shot you can see a car pull into an intersection. The mall scenes were shot in the middle of the night. They were shot in the now defunct Sherman Oaks Galleria, if I remember correctly…
Do you have any memories from the filming of Night of the Comet that you would like to share with your fans?
Again, I had a great time on Night of the Comet. I was attracted to the movie because of the Reggie character. She was unique in her strength and independence. Reggie could kick some serious zombie butt and handle a Mac 10 pretty well, too! As I mentioned before, I love the action stuff. The scene where I fight the zombie was so much fun for me. The whole shoot was a collaborative effort. It was done on a shoe string budget, so we all put our egos aside and did whatever we had to do to make this the best movie we could. While we were shooting, there were two schools of thought on whether it should be a seriously scary horror movie, or the more sort of tongue in cheek horror that the writer/director originally intended. We ended up shooting certain scenes in two different ways so the outcome could be one way or the other. I'm thrilled with the way it all turned out. I think the kind of 'wink at the audience' factor it makes it stand out.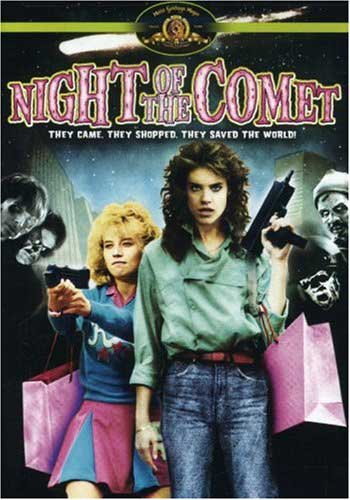 Why do you think The Last Starfighter and Night of the Comet are so adored my movie fans?
I can only postulate, really, but these were both movies designed for kids at a pivotal time in their lives. Perhaps they were first movies that they were able to see without parents…? Also, as fantastical in a way that they were, the characters were kids the audience could relate to on some level. What kid at that time wouldn't have wanted to be so good at a video game that they were recruited to fight the real thing in outer space? What cool young woman wouldn't want to be able to defend herself against anything that the end of the world threw at her. Plus these movies weren't just all about crazy, wild, loud special effects. They both are character driven movies. These characters are relatable and have real lives, but they're put into situations where they have to make mature, smart choices and decisions. And guess what? They do! Maybe these films helped kids feel empowered and validated. I have been approached by female fans who love the Reggie and Sam characters because of exactly that. Maggie had to make a pretty life altering decision at the end of Starfighter too, and Gramma let her make that decision on her own. That's pretty cool!
Have you ever been approached about a sequel or a remake of either The Last Starfighter or Night of the Comet?
As I mentioned earlier, Nick Castle has a fantastic script that he wrote. He's in the process of trying to get it produced.
Do you have any plans to return to the science fiction / horror movie genre at anytime in your acting future?
I have a bunch of friends that are film makers and are passionate about the genre. I was casually approached by one of them about the possibility of being involved with a production this year. We'll see where that leads…