Kelli Maroney Interview:
(Night of the Comet, Chopping Mall, Fast Times at Ridgemont High)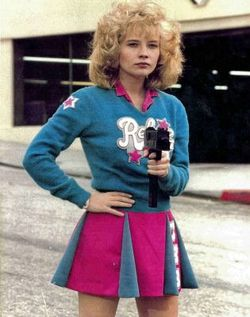 Night of the Comet is one of those movies that I just have to watch every time it's on television. It's a movie that has that certain "it" factor and I guess that's why it has such a loyal fan base. Do you have a favorite scene in that movie?
Yes, the scene on the cop car where I tell Cathy about the new guy at school and my friend not having to worry about flunking algebra.
Did you follow the script 100% or was there opportunity to improvise any of your lines?
Thom's script was already really funny but he kept adding things every day and getting ideas as we went along. The Daddy would've gotten us Uzis line was born out of a prop gun that wasn't working. : )
I talked to Catherine Mary Stewart in an interview a month or so ago, and she mentioned that scenes on the vacant streets were filmed first thing on Christmas morning. How was the shooting schedule for this movie? & do you remember if you got any good gifts that year? LOL!
I don't remember any gifts—the biggest gift was that fantastic role, you know? All shooting schedules are wild—it's location, not vacation!!!
How much fun was it filming in an empty mall?
 Just like a very elaborate set–it's not like we were shopping, you know. Pretty cold and dark,except where we were set up. You don't walk around too much other than where you're set up. ALso need heavy duty insurance in a mall
Hmmm, speaking of malls. You were also in Chopping Mall. I see a pattern here. What are your memories of those security robots?
There was only one that was a full robot–it was on a remote control and pretty slow. We had to 'fake' running from it.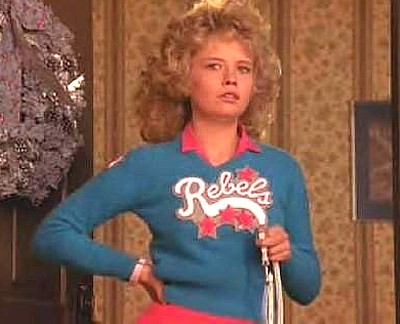 Did you do any of your own stunts?
I mostly do my own stuff. I was on a harness for the 3rd floor drop and there was some kind of a huge balloon pad underneath and a stunt woman actually fell because they didn't have me insured for that. :)
On NOTC I got in trouble because I talked the helicopter guy into giving me a ride during lunch break and I wasn't insured. hee hee
It was the 1980's and I think there was a video store on every corner. I remember going to the local video store in my neighborhood and migrating to the horror section. I specifically remember picking up the VHS boxes and renting Night of the Comet and Chopping Mall, among tons of others. Did you watch a lot of 80's horror back then?
Whatever was out, I watched I think. I can't say that I remember seeing a lot of stuff. It's nice to be busy working yourself.
Did you ever pass on any scripts that you later came to regret or on the flip side, ever accept any roles that maybe you shouldn't have?
Should have/shouldn't have…don't ever should on yourself. A couple of things I had to pass on that I wanted to do because I was already contracted on another project. Some things you'd probably figure I wish I had said no to—what are ya gonna do? Who knew this stuff would all still be out there–I was paying the bills. Well, just barely.. :)
You are going to be a guest at the Saturday Nightmares Horror & Sci Fi Expo in New Jersey, I think the weekend of June 3rd. What do you enjoy about doing horror conventions?
It always stuns me and humbles me at how much the people remember and treasure these films. It's like I was part of their lives at the time in a way.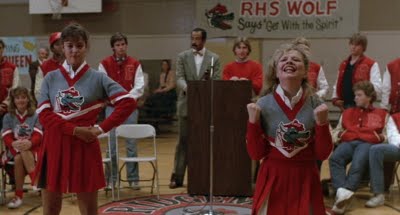 What was it like working with Cameron Crowe & Amy Heckerling during the filming of Fast Times at Ridgemont High? Did they give you any valuable advice?
We were all pretty new and figuring it out as we went along and we were also going FAST.
" You know, it takes a lot of courage to get up here and do something you know people will make fun of " is a great line . How many takes were shot to get it perfect?
One. It wasn't in the script but it was in Cameron's novel. I asked him if I could put it back in and he said "Try it and we'll see if it's 'happening'."
If Mike Damone came up to you and tried to sell you a concert ticket, what group would it have been?
 I dunno…my character, probably The GO GOs.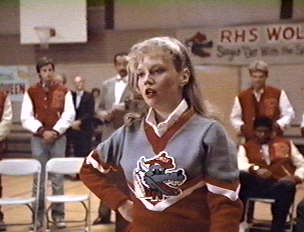 What happened with your half time performance at the football game?
Well, Forest Whitaker as you know became an academy award winner so they had all his footage and Amy recut it—and also, let's face it, the scene is about the game, not about the half time dance.
Do you have any interesting behind the scenes stories that happened while making Fast Times?
The usual—Sean got in a fight with an extra and the extra got fired–he was being really rude to Sean and all of us, Sean stayed in character the whole shoot, I think most people already know the stories and it's really for the actor involved to be the one to tell them, not me.
What projects are you currently working on?
Shooting a cameo in the film LIP SERVICE this month, my web series ROCKANDROLLINC_TV is on youtube–my channel is youtube.com/lovesnerds and it's on there. Finishing up a play called DARK SIDE OF THE MOON, set to PINK FLOYD'S album—what is it with me and the music industry, anyway? LOL…