According to www.horrormovie.it/ new details have emerged about Dario Argento's new project, a remake of DRACULA, in 3D. In 2010, Argento hinted that he would try his hand at turning a classic horror novel into a film, and later revealed that the novel would be Dracula with a screenplay adaptation written by Antonio Tentori. The Italian director promised that his take on Bram Stoker's novel "will be a bloody, strong film."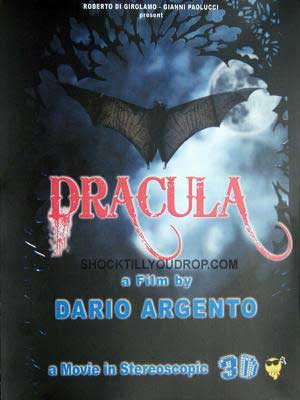 There is no word, as of yet, on who will star in the movie, but filming will begin in Hungary in February and then move to Italy. Balsorano Castle, as seen in the film CRYPT OF THE VAMPIRE located in Southern Italy, was amongst the places sited as possible filming locations. In more unexpected news, Dracula 3D will shift focus and take a departure from the Victorian Era, and instead will be portrayed in modern times.
[youtube]http://www.youtube.com/watch?v=AVwMUX7Fv4w[/youtube]
Although the movie will explore the romantic relationship shared between Mina and Dracula, Argento boasts that his film will not be shy with new and inventive ways to portray scenes of extreme blood and gore. One scene is mentioned as being particularly gory, but Argento did not divulge any further details other than it involved wolves and was brutal.
DRACULA 3D will have an estimated budget of over € 13 million and the production team will be a collaboration of forces from Italy, France and Spain. No word yet on when it will be in theaters.
Source: www.bleedingcool.com
image: www.shocktillyoudrop.com/