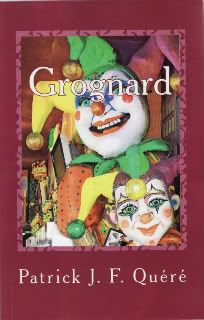 From NBC Miami:
The childhood friend of a troubled Hollywood man who brutally killed his mother last month says his novel may have been the inspiration for the murder.
Beau Henri Bruneau, 29, sits in a Broward County jail, charged with premeditated murder for the Oct. 30 killing of Nancy Bruneau. Paramedics found Nancy Bruneau's body on the front yard of her Hollywood home, with the severe trauma to her head.
Now, 28-year-old Patrick Quéré, who grew up with Bruneau, attending middle and high school with him in the '80s and '90s, fears his new book may have helped lead Bruneau down a dark path.
"It was too much of a coincidence to be a coincidence," Quéré told the Miami Herald. "It took me a while to really believe it. It's such a shock."
Quéré's book, Grognard, is based on his own tough life growing up in Hollywood, though he admitted the main character, Felix, is based on Bruneau. In the book, Felix is a sociopath who goes mad, beating a woman to death and removing her organs.
"Many aspects of Beau were part of the main character and his psychological degradation. I created Felix and his psychosis more out of pity seeing Beau," Quéré said. "Like Beau, my character was a loner who drove everyone away from him."
The book includes a disclaimer that says it's all fiction, but Bruneau's actions, including the time he tried to commit suicide by jumping off the Hollywood Bread building in 1991, clearly served as inspiration.
`It was a nice day, we were all skateboarding. When he jumped, he gave no warning. He just said he had some inner call," Quéré said of the suicide attempt he witnessed.
After Quéré and Bruneau graduated from South Broward High School, Quéré went on to study English at Florida Atlantic University. After working on the book in 2009, Quéré had it published in July.
The book sold only a few dozen copies, and few would have known about it until the Oct. 30 incident. Police say Bruneau, who has a history of mental illness, told them his 62-year-old mother was trying to kill him by yelling at him.
"I just tried to kill my mom," Bruneau is heard telling a 911 operator shortly after the murder. "I hit her and then I hit her with a hammer, then with a brick."
When asked if his mother was conscious, Bruneau told the operator, "No, she doesn't have a brain sir."
After the murder, publisher Lawrence Knorr decided to pull it from circulation. *George's note: Sunbury Press has since decided to re-release the novel and have selected two charities to be beneficiaries of all profits: The National Alliance for Research on Schizophrenia and Depression (NARSAD) www.narsad.org/ and Mental Health America www.nmha.org/.*
"What I can tell you is it's a very good book from a literary perspective," Knorr told the Herald. "But now it is tainted by this situation."
Quéré said he and Bruneau had talked about the plot of the book, but when Bruneau's lawyer, George Reres, mentioned it to him recently, he seemed confused.
"But given his state of mind, that's not surprising. He goes from being completely vacant to crying spells," Reres said.
Hollywood police are aware of the book but are not investigating Quéré, who hopes that if nothing else, the book can help with the understanding of people who suffer from mental illness.
"It's a silent thing that people deal with but don't recognize," he said. "Maybe this book will help make the invisible visible."
Here is a link to my original review at Horror News: horrornews.net/23790/book-review-grognard-by-patrick-j-f-quere/
Link to Miami Herald story "Author's plot may have inspired real-life murder" : www.miamiherald.com/2010/11/14/v-fullstory/1926373/authors-plot-may-have-inspired.html#storylink=fbuser