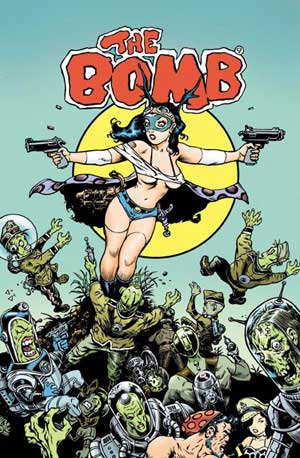 THE BOMB (TPB)
Written by Steve Mannion
Artwork by Steve Mannion
Published by Asylum Press
Publication Date: 2008
Format: B&W with 16 page color – 176 pages
Price: $14.95
In full retro style, the creators from Asylum Press bring us a full volume TPB featuring the artwork and clever storytelling of AP frequenter Steve Mannion. Instantly your set in a vibe that brings you back to a combination of Mad Magazine style art combined with a touch of EC comics. Even magazines such as "Cracked" and "Crazy "came to mind. A fully B&W release with a small color art section takes us back to the days of big breasted female hero's, overwhelming nazi monsters and a mix of humorous encounters along the way. The name of the Book is "The Bomb" which focuses primarily on the female hero "Fearless Dawn", with a few chapters devoted to "Jungle Chick" ,"Sea Goin Lil", "Helga" and "Brownhole Jones". The lines are thick pen and ink that pop off the pages with bold contrast. The book itself collects several single issues under one roof with many of the stories carrying over from issue to issue. We are given the benefit of an origin and background of how Fearless Dawn transformed herself from Prissy Jones into the super hero ass kicking fem fatale that she is. Her strength pointing to a mail order dose of Joe Jeeder strength building formula and a costume that she acquired one day that came from the heavens seemed to be enough to get her started on her super hero trail.
There seems to be no shortage of monsters with Nazi ties as she battles them though various scenarios. Many of these monsters again remind me of the drooling over muscular MAD magazine type drawings. The episodes of Jungle chick seem to be rooted in old spy vs spy situations where a T REX tries to eat his prey on numerous occasion only to be upper handed by some sort of painful resolve or accident. Along the way we are treated to a number of one-off full page illustrations boasting a nicely drawn version of one of the super hero females with endowments that every man would stop and gawk with eagerness over. In the spirit of Betty Boop and Betty Page days each one rounds off nicely with hips and legs to die for. In other words a real woman , not you cookie cutter anorexic model stick shaped girlie. "The General" who I'm sure I've seen a likeness to in old Heavy Metal issues, is an ongoing villain seeking revenge on Fearless Dawn for locking him away.
Of course with female vs beast, we see some pretty cool tit for tat showdowns as they match brawn versus wits usually with the General getting the piss kicked out of him. The second half to the book features more one page illustrations each signifying a classic piece of cover illustration itself. With old school monsters, chicks in bathing suits. Dinosaurs, chicks in showers (yep you heard it right!) tanks, vampires, sea creatures and more nazi villains you are definitely in he world of Fearless Dawn. A tribute of sorts to the classics told in modern times . These issues are alot of fun, the TPB is preferred for getting all you dames under one roof. Enjoyable and slick – we dig Fearless Dawn and "the Bomb"
You can pick this up and many more read at Asylum Press
Available from www.asylumpress.com