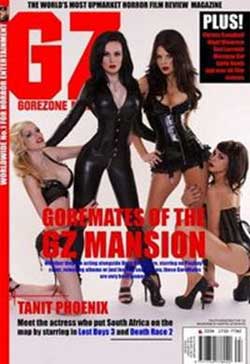 ISSUE 63 IS 'DEDICATED TO INGRID PITT'
www.gzmagazine.co.uk
www.twitter.com/gorezonemagazin – Follow us on twitter for EXCLSUIVE news and comps
www.gorezone.co.uk
INSIDE ISSUE #63
.Christa Campbell goes behind the scenes of Scream 4 and Eli Roth's Clown
.GZ Exposes Rose McGowans (Grindhouse) new surgery that's left her scared on the new Scream DVD' and why she may be given the boot from Red Sonja
.Then and Now takes a look at what happened to Susan Ward from Mary Lamberts The In Crowd, wild things 2 and Cruel world
.Winona Ryder (Black Swan) Talks to GZ Magazine about the death of Scream Queen Brittany Murphy (Cherry Falls)
[youtube]http://www.youtube.com/watch?v=08oWzwwzg-I[/youtube] PLUS A FREE DVD CELEBRITY GHOST HUNTING
.GZ speaks direct to the Ugly Betty actor Michael Brea who chopped his mothers head – Read what pushed Brea over the edge!!!!!
.Sean Cain takes on GZ Magazine's Big Fat Horror Quiz
.Sarah French joins the GOREMATE pack as does Chandler Maness the GOREMALES!
.Nigel Wingrove talks about the great depression
.Emily Booths takes you behind the scenes of a horror convention
.Amber Erlandsson talk's winter spirits and what really happened behind the walls of the Enfield ghost
.Suzi Lorraine talks Extreme horror flicks highlighting the recent Serbian Film
.Christa Campbell, Emily Booth, Suzi Lorraine and Amber Erlandsson strip bare for the readers in a GOREMATE XMAS spread!!! All four girls talk, horror, sex, blood and gore and what makes women powerful creatures!
.Joise Ho talks openly about Hong Kong's Victoria Harbor and her new movie Dream Home then trashes the hotel while GZ Magazine watch in horror – We got it all on film!
.Tanit Phoenix gets her kit off for GZ Magazine and talks Lost Boys 3 and Death Race 2 and why she's going to be the new wonder Women and Gallowwalker will never get released because of Wesley Snipes' tax problems!
.GZ Magazine goes behind the scenes of the new Natalie Portman Horror movie Black Swan and proves how X Rated the film is and why her farther has refused to speak with the actress over her sex scenes in the film!!!
.Joe Dante Life in the fast lane is looked at from Howling to The Hole 3D and speaks with many people involved in his projects – Includes never before seen images!
.Plus over 40 Film Reviews that include Black Christmas, Stag Night of the dead, The Kiss, The Rig, The Boogeyman, Call of the hunter
. Blu-Rays include Lost Boys 3, Damned of the dead, Maniac and Altitude
.Theatrical reviews include A Serbian Film, Chatroom, Rare Exports and Outcast
.Music reviews that include Tila Tequila, Hookah The Fuzz and Combichrist
.Games that include Jaws Unleashed, Saw 2 and Splatterhouse
.Plus much, much more….