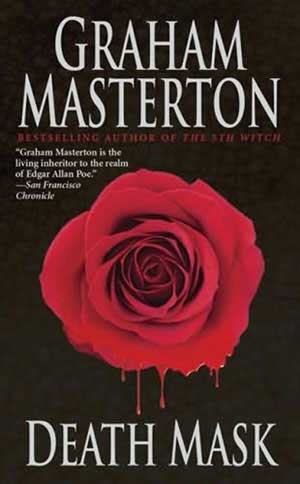 DEATHMASK
Author Graham Masterton
Published by Leisure Books
Publication Date: 2009
Format: B&W- 323 pages
Price: $7.99
I've never read any of Graham Masterton's books before. When I picked up Death Mask at Barnes and Noble, I was definitely in for a treat. The story was very well written and the idea of it was something fresh, something that we have never read before. The story itself centers on a very talented artist who has the strange ability to bring stuff to life by drawing them.
This character isn't the only character in the book, there's her loving husband and daughter and even their family dog. The other protagonist is the husband's mother who's a fortune teller who has a knack for using De Vane Cards, kind of like Tarot but the same principle. The fortune teller named Sissy can predict a series of events happening. I don't want to give away any spoilers but I can say this, there's a certain point in the story where you will develop a gradual fear of elevators, even if you're riding with a crowd of people. The book will have you hooked in. There's a sense of magic and wonder within the story that Graham has masterfully written.
There have been blurbs written about the author that are very accurate. They're dead on when they say that he's "a masterly plotter who evokes both terror and suspense" this comes from the Library Journal. If I were to come up with a blurb it would be this: People who are looking for authors who can tell a very suspenseful and terrifying novel then look no further than Graham Masterton. The dread and fear was everywhere you turned. The author's imagination is something that shouldn't be underestimated. Graham took his time when he wrote Death Mask and it shows it in the story that he's written. It wasn't rushed or anything. He took his time when he sat down in front of his computer typing away something that makes him the Bestselling Author that he is today.
It's been awhile since I've read a horror story that is compelling and that's what Death Mask is very compelling. It hooks you in and takes you for one hell of a roller coaster ride. I've heard that a writer's imagination is limitless. There's no end to it, that's very much the simple truth for Death Mask. I haven't gotten around to talking about the antagonist who in his own right is very frightening. The description of this particular character is reminiscent of what you may see in a slasher movie.
The killer or killers are dubbed Red Mask, a very fitting name since it appears in the book that these characters appear to be wearing red masks with slits for eyes and mouths. Someone one would definitely wish they wouldn't run into a dark alley at night.
Available from Dorchester Publishing Company