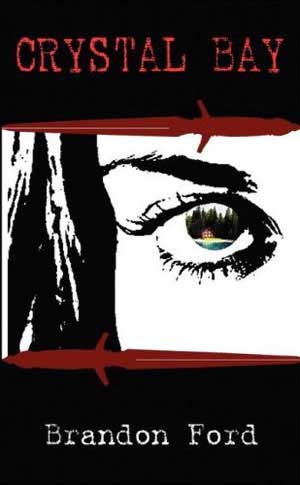 CRYSTAL BAY
Author Brandon Ford
Published by Arctic Wolf Publishing
Publication Date: 2007
Format: Black /White – 308 pages
Price: $13.95
What one would do for immortality?
Gage is an aspiring novelist, he's stuck in a dead end job grading senior English papers and is married to someone he loves more than anything. As the summer finally arrived, Gage had made plans to go out to his childhood small town called Crystal Bay where he would spend the summer in his parents' summer home and write the next American novel. His wife Beth is against the idea of not having her husband around for two months. Gage on the other hand tells her this is the perfect opportunity for him to spend time working and pursuing his dreams of being a writer. Along the way he meets one of the most beautiful and seductive girls he had ever seen, her name is Amanda and in the end she always gets what she wants and what she wants is eternal beauty.
This is Brandon Ford's very first novel, a very well written novel and very entrancing when reading it. Amanda is the type of person who would do anything to gain everlasting beauty and the way she does that is by seducing Gage and draining him of his youth by having sex with him. The novel is a quick read with very likable characters. The characters themselves are well developed and well thought out. You get a feel for the lives that these people live each and every day. You could almost feel the hints of despair that come from the pages of the book as you read more and more. The moment Gage sleeps with Amanda the more creative he is in writing his novel. He has tons of ideas that pour out from him after being with the seductress who unknown to Gage is draining him of his youth and turning him into that of an old man, this transformation does not begin to occur later.
For a debut novel author Brandon Ford has managed to capture the attention of his readers. He is very descriptive and very talented in telling a story. The book seemed to have lagged in the beginning but quickens its pace the moment the central character of Amanda meets Gage for the first time. The pacing of the book is well executed Brandon Ford does manage to build tension as the main character Gage feels as if his life is falling apart, he finds himself unable to pull away from Amanda as her very presence is intoxicating. He does not answer the phone when his wife calls who becomes more and more worried about her husband who she feels she is losing connection to. Gage does not want Beth to find out about his affair with Amanda where it grows even more. The book delves deeply into a supernatural element that we haven't seen for awhile. The book does have its moments, it has the ability to hook us and make us want to care about the lives of Gage and Beth as Gage is thrown down this downward spiral where he is desperately trying to find a way out of. He cannot break this strong attraction he has with Amanda, he knows it is not right but he cannot pull himself away from her as she continues to seduce and drain him just in an attempt to become eternally beautiful.
The supernatural aspect is very good, it adds to the tension and makes the reader often wonder what is Amanda going to do next. As I've mentioned, Brandon Ford is one hell of an author he has gained a fan out of me and I enjoyed reading Crystal Bay. I did not have any problems with the plot it was very good and well written. I enjoyed the little obstacles that the characters had found themselves in, mainly with Gage, Beth and Amanda. I'm looking forward to reading Brandon's next book when it comes out.
Available from Arctic Wolf Publishing
Also available from www.amazon.com