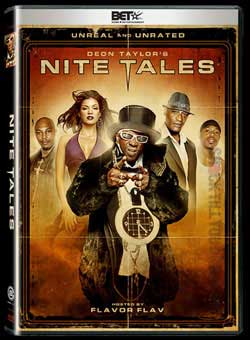 SYNOPSIS:

Horror auteur Deon Taylor delivers twice the chills in this fright-filled double feature hosted by Public Enemy rapper and reality star Flavor Flav. In Storm, a spate of murders accompany a sudden downpour, and in Karma, a group of bank robbers pulls off a heist — only to find themselves pursued by a killer cannibal. Gary Busey and Onyx rappers Fredo Starr and Sticky Fingaz are featured performers.
REVIEW:
2 tales of madness from the heart of the ghetto. Well if there isn't anything scarier than flavor flav as your tales from horror host, I don't know what is. "yunno what I'm talking about…aiyt" Somehow I'm guessing Flav isn't gonna give Vincent Price a run for his money. However lucky for you that's not the movie.
Anthologies tend to be popular in many of these african american driven horror films such as "Tales from the Hood", "Snoop Dog's House of Horrors"…etc though that doesn't mean it's a bad thing. My only complaint is most of these films really drive there own stereotypes with ghetto speak, bank robbing, du-rags, rap music, N-word this, and so on. While I realize they are targeting a specific audience, I don't think they are target focusing as much as targeting just a "horror" audience. So I'm not sure if the hood speak presentation will work for everyone. I wouldn't mind now and then just seeing them take themselves a little more seriously and not try to hammer in the street vibe so much.
Now on to the film. We have 2 tales that are professional filmed and have a pretty good flow. Meaning they keep you entertained. Our first called "Karma" is a bit of the rob the bank and getaway with the loot type film. Of course everything doesn't go as planned as 1 gets shot and their car stalls in the country. The essence of this tale is a bit of "eye for eye" and getting what's coming to you moral. The remaining thugs head for the local residence with plans to steal the car and keep moving. In the process they run into a creepy old family with even creepier intentions. (Don't you know you shouldnt mess with the crazy ol grass roots country folk…espeically if they smile alot and not cuz they are happy?)
I wont spoil it for you but the thugs get a dose of turn around brought down on them and some prettty graphic brutality to follow. I will say the acting at this point was believable enough to work for the scene. Not my favoriteof the 2 but still a step above a Tales from the Darkside episode.
The second feature titled "Storm" features the talent of Horror film frequenter Tony Todd. Todd plays a creepy and intimidating clown (James Clown) who shows up at the doorstep in a downpour. Of course this happens after a group of teens party, converse and tease followed by an all to typical segment of daring to do the urban legend chant "Bloody Mary" in a mirror 6 times. If you've been hiding in a closet you know that anytime a bloody mary chant appears in film the rest to follow is pretty obvious. In some shape or form Mary comes back and terrorizes the kids. Kind of like ….Tony Todd in his candyman series???
Anyway's the story picks up as the tension is raised. Mary gets forgotten about as the teens foolishly let in a water soaked clown to use the phone. Another pretty easy plot set up – not to do. This is also followed by a water soaked policeman who is let in shortly after. So we have a house full of folks wanting to use the phone and in the background teens are getting murdered mysteriously. A pretty rampant session of finger pointing carries on and misdirection is used to change the plot narrative. Not a bad short film and done effectively. The quality and professional appeal in both shorts overall was pretty entertaining. That is until Flavor flav pops back up on screen to tell his audience to buy the film (which should have been assumed they did anyway's) and of course uses even his host appearance to self promote his name a bit more. Ok, I get it…. the name additional might help sell a few more copies to interested viewers. Though the real strength here is in the story telling and not the cameos. I think Nite Tales has a chance to win a few hearts and continue on their path. Though I'd screen your stories carefully so that the series (which we assume they'll be branding) will continue to offer great entertaining stories.