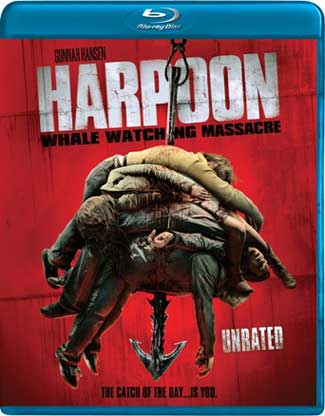 Welcome aboard! Our course heading – pure terror!
HARPOON: WHALE WATCHING MASSACREFROM IMAGE ENTERTAINMENT
Setting sail onto DVD, Unrated DVD and Unrated Blu-ray™ December 7
Featuring 'Leatherface' Gunnar Hansen
Chatsworth, CA – A whale-watching expedition will promise many things: the scent of fresh, sea air; the sound of the crashing, high seas and just maybe a sight of one of nature's most magnificent creatures. Usually. On December 7 Image Entertainment presents Harpoon: Whale Watching Massacre, the terrifying tale of a pleasure cruise gone deadly wrong. Harpoon: Whale Watching Massacre will be available at an SRP of $27.97 for the DVD. In addition, fans can experience the unrated DVD with two additional minutes of extra "slumgullion" for an SRP of $27.97 and the unrated Blu-ray™ for $29.97. Pre-book is November 9th.
On the cold waters off Iceland's coast, a boatload of international tourists set off on a whale-watching expedition. But when a freak accident leaves their captain mortally wounded, they are stranded…and suddenly the ocean's loveliness turns ominous.
Help seems to arrive in the form of a helpful whaler (Gunnar Hansen, The Texas Chainsaw Massacre) who offers to take them back to shore, but instead leaves them on a decaying whaling barge.
At first they believe they're alone, until they discover that the barge is already occupied by a deranged family, determined to hunt each one down in a night of oceanic terror! Forced to overcome cultural as well as personal differences, the tourists become comrades in fear…willing to brave the high seas to survive an ocean of blood.
Written by award winning novelist and lyricist Sjon Sigurdsson (collaborator with The Sugarcubes, writer for Björk), Harpoon: Whale Watching Massacre has been called Iceland's initial foray into the slasher/horror movie genre. Gutsy and graphic, it puts its crew in circumstances that are both inventive and unimaginable. When a day of leisure becomes a night of terror, who succumbs…and who survives?