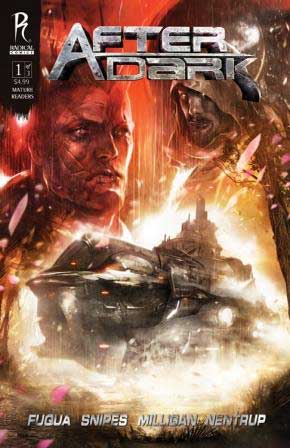 Issue: After Dark #1
Creators: Antoine Fuqua, Wesley Snipes
Writer: Peter Milligan
Artist: Jeff Nentrup, Sara Biddle
Letters: VC's Clayton Cowles
Cover Artist: Francesco "Matt" Mattina
Editor: Renae Geerlings
Publisher: Radical Publishing
Release Date: August 2010
Pages: 56
Price: $4.99
"From celebrated director Antoine Fuqua (Brooklyn's Finest, Training Day), acclaimed actor Wesley Snipes (Blade) and award-winning writer Peter Milligan (X-Statix, Skreemer) comes the post- apocalyptic saga of After Dark! Guided by an amoral drifter, a crew of jaded mercenaries must travel into the dark places of the ruined planet, and the even darker places of their own pasts, on a journey to find a woman who might just save the world. But maybe the world is past saving. And maybe the people who still inhabit that world aren't worth saving. After Dark is a story of hidden demons and the passion for survival, set in a future that could very well be ours."
Artwork: 4.0 out of 5
Close your eyes. Now how dark it is? Fine go turn off the light, and now close your eyes. Pretty dark huh? Well imagine it's like this all the time. A time when the dark is a place you don't want to be. Welcome to the world of After Dark. The art in this book does exactly what it sets out to do, be dark. To me it has that 80′s sci-fi movie vibe as nothing ever seems to not be bleak. Great character designs, fun panel placements and that dark feel to just really set the tone so well. A great looking book.
Story: 3.5 out of 5
Well I have to admit that at the beginning I was a little lost on this one. It was maybe a quarter of the way through when I really got the hang of things on this one. So what I like about it were the character interactions. The way that they talk about the environment surrounding them really gives off that creepy vibe that it is leading to. What kinda tossed me off the track though, was what I found to be a little odd idea of people being able to navigate the dark. I don't know I just didn't see anything that needed to lead to some people having "powers". Overall though I liked it. I liked where it went and how it got there.
Dying Breath: 4.0 out of 5
A nice dark existence is what is apparently in store for us, as the characters in this book long for days of the past, our past. I liked the look of this book a bit more than I did the story. That's not to say this ain't going somewhere. Where that final page left off I want to know what is going on with it now! So I can't say it's a horror style book, but it is dark, and something is out there in that dark that is coming. So look, read Radical books, get into it and then you can be on board with me! Having fun reading comics again!
If you would like to buy or know more about After Dark #1 you can find it at www.radicalpublishing.com/