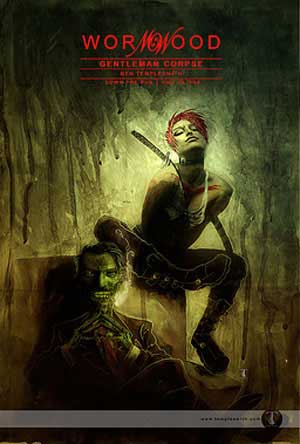 WORMWOOD – GENTLEMEN CORPSE #1 (COMIC)
Written and artwork by Ben Templesmith
Published by IDW
Publication Date: 2009
Format: Color
Price: $3.99
Wormwood: Gentleman Corpse, special edition "Down the Pub" is a one off on the ongoing wormwood series produced under IDW. The edition is an entire Ben Templesmith creation which includes story and artwork. For those who have followed Ben's work, you'll know he definitely has his own style which is bets descried as mixed media, pen and ink combined sometimes with photography and what not. The ink style is stark, high contrasted, and drawn with a quick confidence in his strokes. It also seems to excel at metaphysical creations that the style tends to lend itself to. This one we have a creepy big teethed corpse name wormwood. Wormwood is a quirky tale that is purely based on imaginative efforts on an english, beer drinking fellow and his band of accomplishers. The team together acts much like a pseudo men in black who police the universe and get rid of undesirables. Fro those who are slow to the take the comic begins with a page introduction of the Wormwood and his buds just so you know where and what it going on.
This story shares both horror and comedy aspects as the old chap tends to not take himself too seriously. He also seems to exist in a comic universe where weird characters are not that unlikely as he sits down to share a pint with them. The artwork is well done and in many ways is a staple look for IDW comics. With Ben taking over many titles, his style is surely used to its fullest, but it suits the quirky titles to the tee. The comic also includes a few one page art renderings that are a highlight for me to see.
I must admit to being new to this series but it appears it making its rounds with several other off shoots on this characters and his journeys. A full origin is told as Wormwood explains his lifetime, (being that of a 100,000 lifetimes) starting as merely a primordial worm and inhabiting a corpse so he can live among the others and enjoy a nightly brew. His past includes feasting on gods and the like and seeing everything there ever was. So he comes to the table pretty knowledgeable and weary of it all at the same time. His other talent includes being able to spot signs of creatures among the living pretty easily which is why he makes for a good enforcement against the invaders of the humans. This comic is aching for a more extensive background which I'm guessing will be revealed in future editions.
A cool little read, with even better pen and inks. The backing colors are provided per water colors and faded photography per way of digital underlay's against the pen work. The story is imaginative and the writer has fun with the dialog. Check it out!
Coming soon from www.idwpublishing.com/