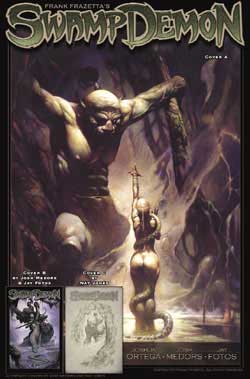 FRANK FRAZETTA'S SWAMP DEMON #1 (ONE-SHOT) (Comics)
Writer: Joshua Ortega
Art & Cover art by: Josh Medors & Jay Fotos
Variant covers by: Frank Frazetta & Nat Jones
From Image Comics
Publication Date: 2008
Format: Full Color, 32 pages
Price: $3.99
SYNOPSIS:
Another one of Frank Frazetta's classic paintings comes to life with the "Frank Frazetta's Swamp Demon" one-shot. This time Frank Frazetta Comics and Image Comics tell the account of beautiful witch-goddess known as Kallista. Set in the Land of Iparsia. "Frank Frazetta's Swamp Demon" is a shadowy fantasy story of demons, druids, and the unexplained. Taking place 500 years before the epic story, "Shadows of Mirahan" storyline from "Frank Frazetta's Death Dealer" series.
REVIEW:
This comic and its created mythology are shallow to begin with and even less inviting in only 24 pages of art and story (with 8 pages of filler). After a brief set up introduces to three Druids that are trying to get to a sacred destination. Upon their arrival the objective is saturated by evil creatures and demons which are dedicated to the eradication of the Druids. And that is where the problem arises. Writer Joshua Ortega and reuniting the team of Josh Medors and Jay Fotos are the creative penciler and inker team on, "Frank Frazetta's Swamp Demon" which is here to entertain. And that is where the problem arises.
In retrospect we can tell there is more to had in the "Land of Iparsia". This series briefly introduces us to a band of villains as unexplained as any independent comic series I've read in recent years