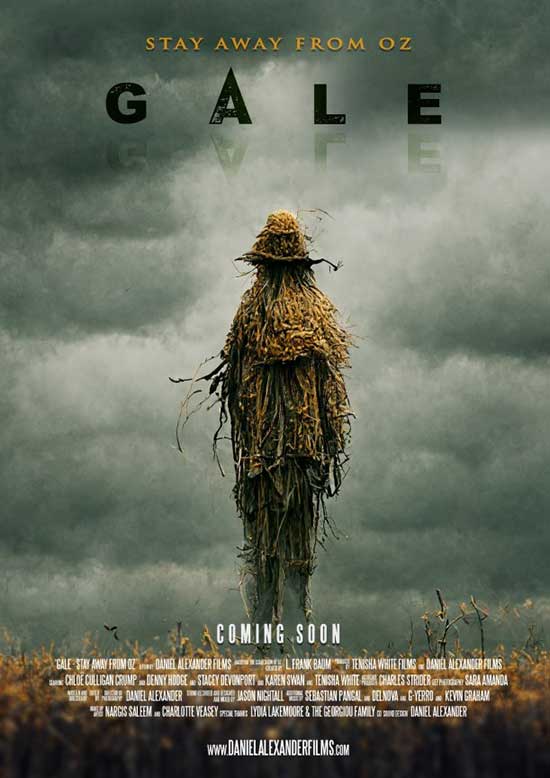 Chilling, the world's first and largest community-driven and crowdsourced mobile streaming platform for horror content is thrilled to announce that they have partnered with director and writer Daniel Alexander to executive produce Gale: Stay Away From Oz, a dark and deliciously terrifying re-imagining of the classic 1939 film The Wizard of Oz and further inspired by the 1985 film Return to Oz. Gale: Stay Away From Oz will stream exclusively on the Chilling app when it is released in April 2023.
SYNOPSIS
Long gone are the days of emerald cities and yellow brick roads. In this dark re-imagining of The Wizard of Oz, Dorothy Gale is now an elderly woman, broken by years of paranormal entanglement with a mystical realm, which has now echoed down to her only living relative, her granddaughter Emily, who is being called to settle unfinished business in this now terrifying world of Oz.
The concept trailer for Gale quickly amassed 700K views on YouTube with millions more views on TikTok since the trailer went viral among influencers, inspiring a ton of reaction TikTok videos:
www.tiktok.com/@alexisblake46/video/7159037096437599531
www.tiktok.com/@spooksandghouls/video/7161775529149107502
www.tiktok.com/@stoney_tha_great/video/7160502632409255211
www.tiktok.com/@hdverticalvideos/video/7168362024139787562
www.tiktok.com/@tsreeltalk/video/7158816864322292997
METHOD BEHIND THE MADNESS
Gale: Stay Away From Oz is a concept trailer designed to showcase a fresh take on the classic Wizard of Oz story, first penned by L. Frank Baum, which transports the tale to present day.
With the original family story being embedded in witches and supernatural characters, Daniel felt intrigued to tell the story through the lens of a modern horror genre that explores witchcraft, other realms and paranormal activity that at its heart is also found in the original text. Instead of being in a world that inhabits the mythical land of OZ, this story takes the audience on a rollercoaster ride of emotions in the pursuit of discovering if Oz is real or a delusion in the mind of its iconic heroine, Dorothy Gale.
In this iteration, Dorothy's granddaughter Emily reports of similar experiences as she begins her own journey of exploration as we discover if she is suffering from a hereditary mental illness or if this terrifying place of witches and strange creatures called OZ truly exists.
PRODUCTION
Principal photography on Gale is scheduled to begin February 2023 on the 20 minute short film, which is slated for a Spring 2023 release, exclusively on Chilling as part of the launch of Chilling 2.0's video component.