MOONSHINELAND, the debut podcast from award-winning screenwriter Ryan Hines of Drunk Horse Productions, is the perfect storytelling escape this Halloween.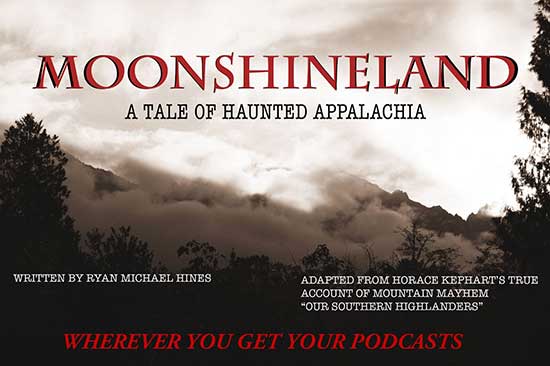 The fictional MOONSHINELAND is a tale of haunted Appalachia. Based on Horace Kephart's first person account of prohibition era murder, moonshine and mountain mayhem "Our Southern Highlanders;" and Madeline Vinton Dahlgren's classic book on the Appalachian occult "South Mountain Magic," MOONSHINELAND is the story of two friends' journey into the Appalachian wilderness on a manhunt for a fugitive moonshiner. But instead of tracking a human criminal, the men discover they are on the trail of an ancient Evil, the Wolf Man of Appalachia, and that they, the hunters, have become the hunted.
"When I first came across Kephart's book, I was blown away by what an amazing story this was," said Hines, who wrote, directed and produced MOONSHINELAND. "I was eager to put my fictional, darker twist on the material."
Hines has a rich family history tied to Appalachia. He has fond childhood memories of his grandmother sharing blood-curdling stories of the West Virginia hills. Now based in Los Angeles, Hines is a UCLA Screenwriting MFA alum with a number of award-winning screenplays to his name. This is his first podcast.
In addition to Hines, MOONSHINELAND features the voice talents of Jessica Kozak (The Bold Type, Happy Together, Up All Night) and Dave Theune ( I Am Not Okay with This, Never Have I Ever and Good Girls). MOONSHINELAND was produced at Fireflower Studios in Los Angeles.
MOONSHINELAND has earned some early noteworthy buzz: "A riveting prohibition era yarn," said director, producer and writer J.T. Gurzi of MOONSHINELAND. "A refreshing mythologic and colloquially authentic Appalachian tale of mystery, murder, mayhem and moonshine. Saddle up, grab a pint, and prepare for a tightly wound, and delightfully structured ensemble narrative — a uniquely specific prohibition era cast chock' full of wildly memorable characters. This atmospheric read will leave you emphatically satisfied, and looking' to score more prose from author Ryan Hines."
MOONSHINELAND is available on Apple Podcasts, Spotify and wherever else you enjoy podcasts. Follow the fun on Instagram at @moonshineland_2022 and follow Ryan Hines @rheadyallready. Click here for more information.