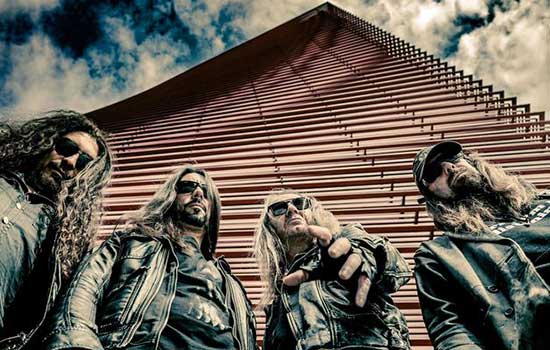 Italian black-thrash metal trailblazers NECRODEATH will drop the new album "Singin' in the Pain" in November via Time To Kill Records.
Watch for more details on the new album release, new tour updates, and more news on other upcoming NECRODEATH activities to be posted shortly.
Check out the band's latest single, "Transformer Treatment", at THIS LOCATION.

"Transformer Treatment" is a song written in collaboration with S.B. Reder (SCHIZO) and inspired by the "Ludovico Technique" of the movie "A Clockwork Orange".
The moment you hear it, you know it's NECRODEATH. Formed back in 1984, the Italian act is one of the real iconic black-thrash metal bands. With an ongoing career of almost 40 years, the band has helped to shape the Italian metal scene and the international underground as it is today. NECRODEATH released a cult-demo tape titled "The Shining Pentagram" and obtained an incredible success in the underground. The demo is still considered a real gem in the thrash and black metal history. Tons of tributes in major magazines, fanzines and other underground outlets highlighted the release of the first two legendary albums "Into The Macabre" (1987) and "Fragments Of Insanity" (1989). And today after many full-lengths, EPs and side projects the long voyage to hell is not over yet.
Album discography:
Into the Macabre (1987)
Fragments of Insanity (1989; re-recorded in 2019)
Mater of All Evil (1999)
Black as Pitch (2001)
Ton(e)s of Hate (2003)
100% Hell (2006)
Draculea (2007)
Phylogenesis (2009)
Old Skull (2010)
The Age of Fear (2011)
The 7 Deadly Sins (2014)
The Age of Dead Christ (2018)
Defragments of Insanity (2019)
NECRODEATH
https://instagram.com/necrodeath.official
https://www.facebook.com/necrodeath.official
Time To Kill Records
https://timetokillrecords.bandcamp.com/
https://www.instagram.com/timetokillrecords/
https://www.facebook.com/timetokillrecords/