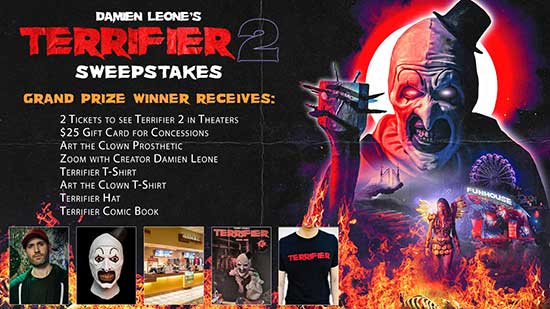 A sweepstake so good it's terrifying! Enter for a chance to win this incredible Terrifier 2 prize pack. 20 lucky winners will receive an autographed theatrical poster. SHARE the contest with your friends and one grand prize winner will receive 2 tickets to see the film in theaters, an Art the Clown prosthetic, a Zoom call with Terrifier Creator Damien Leone and more!
After being resurrected by a sinister entity, Art the Clown returns to Miles County where he targets a teenage girl and her younger brother on Halloween night.
WATCH TERRIFIER ON SCREAMBOX TODAY BEFORE TERRIFIER 2 HITS THEATERS
The contest runs from 09/20/22 – 10/04/22 so enter today. Open to US Only, PO Boxes not eligible.
Named "one of the scariest clowns on screen" by Bloody-Disgusting.com, Art The Clown returns and sets his sights on three young women, along with anyone else that gets in his way. Terrifier is based on a character from the successful horror anthology franchise All Hallows' Eve.