CLAUDIO SANCHEZ ANNOUNCES NEW HORROR COMIC MINI-SERIES, "MY BROTHER'S BLOOD MACHINE"
FIRST TITLE WHOLLY PUBLISHED BY SANCHEZ' OWN "EVIL INK" BRAND
SERIES BASED AFTER SANCHEZ' SOLO PROJECT PRIZE FIGHTER INFERNO'S DEBUT ALBUM
CO-WRITTEN WITH HORROR COMIC LEGEND STEVE NILES
The Amory Wars creator and Coheed and Cambria frontman Claudio Sanchez has announced his new horror comic, "My Brother's Blood Machine," a six-issue mini-series loosely based on the album of the same name, from his solo music project, The Prize Fighter Inferno. On "Blood Machine," Sanchez teams up with prolific horror author Steve Niles (30 Days of Night, October Faction) and artist Andrew Ritchie (Cthulhu Tales, Necronomicon). 
The New York Times Best Seller's latest tale is due in shops December 14 and is the first to be released exclusively through Sanchez' own comic brand, Evil Ink, Distributed through Diamond and available to retail and for pull lists beginning today at https://previewsworld.com
Sanchez is no stranger to making readers uncomfortable (see: The Amory Wars, Key of Z), and "Blood Machine" takes it up a notch. Deadly, bizarre and beautiful, quirky and horrifying. Prepare yourself for a wild and bloody ride. 
He didn't do it alone. Co-writer Steve Niles has been crafting nightmares for comics, TV and the Silver Screen for two decades-  throw in the perfectly abstract style of artist Andrew Ritchie and grind it all up into My Brother's Blood Machine. 
A teenage girl desperate to escape from an abusive home. A high school misfit wrongfully accused of murder. An abominable secret waiting in the woods. Margretville is troubled, but they've no idea the disturbing truths looming beneath the surface of their otherwise picturesque town.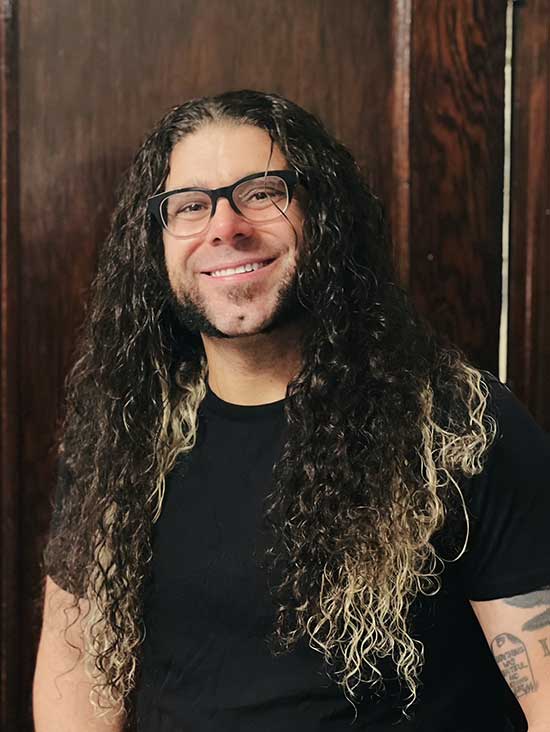 Claudio will return to New York Comic Con this year, signing with his wife and frequent collaborator, Chondra Echert, at the Evil Ink Booth, #2937. 
Fans can go to Previews Pullbox and pre-order from their favorite neighborhood store via https://previewsworld.com. Reference stock number OCT221630, or go to www.eviilink.com for more info on all.
Exclusive variants will be offered at a later date.