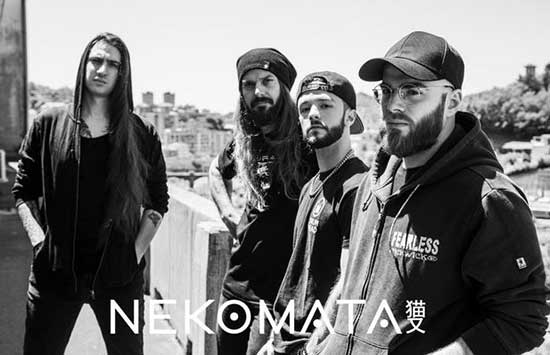 NEKOMATA is a new Italian modern metal band born from the ashes of the band PROJECT KASHA. Founded in 2022 by Filippo Zavattari (ex FROZEN CROWN) on bass and backing vocals and Andrea Cappellari (ex SKELETOON) on guitars and programming, the band has recently been joined by Andrea Olivieri on vocals and Nicolò Buganza on drums.
The vast experience and diverse musical background of the musicians involved and their desire to create something new, detached from trends and labels, has led to the composition of an album that will be released in the near future. Combining a powerful and modern sound with melodic singing, NEKOMATA have been labelling this sound "power-core".
Watch for more details on the album release, new tour updates, and more news on other upcoming NEKOMATA activities to be posted shortly.
Kappe: "Nekomata is about to come to life and I can't wait for everyone to hear our debut album, for which we strived for perfection in every single note and word. Its composition and conception were kind of therapeutic and I couldn't be happier with what we have achieved. We finally reached the sound that we had in mind from day 0: the music is loud, the message is clear".
Fil: "After many years in the music business with great results, I felt the need for a new challenge. I wanted a project were music and good people were the very core, because being able to create something high-level is all about effort, dedication and constant planning. As the album explains, these elements have nothing in common with abuse and drama. Nekomata is the answer to this need".
Olly: "Nekomata is a challenge against myself, a spark allowing me to delve into uncharted territories often considered out of reach".
Nick: "Nekomata is a project which came out of the blue and that totally blew me away. And now, after months of hard work, the time has come to let the audience hear what we have been crafting with so much passion and desire".
https://www.facebook.com/theprojectneko
https://www.instagram.com/theprojectneko/
https://twitter.com/theprojectneko