INDIE HORROR COMEDY AREA 5150 – STARRING GENRE ICON FELISSA ROSE – LAUNCHES INDIEGOGO CAMPAIGN
A unique sci-fi/horror comedy, AREA 5150 from Director Sean Haitz (Big Top Evil and the upcoming Cannibal Comedian) launches an IndieGoGo campaign on Tuesday, August 9. Funds will be used to film additional sequences and post the project.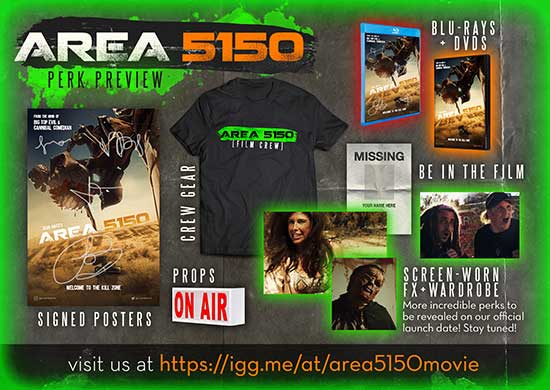 The film follows an alien-obsessed podcaster and his friends who decide the best place to do a live is outside the mysterious facility itself… not knowing that they've stumbled into a brutal hunting ground used by a demented family with ties to the base. AREA 5150 stars Felissa Rose (Sleepaway Camp, Victor Crowley), Jed Rowen (Blind, Pretty Boy), Eiji Innoui (AMC's The Terror) and Matthew Lucero, Aaron Prager, Clair Brauer, Rob Wight, Mark Cerulli, D'Shea Beasley and is produced by Haitz, Mark Cerulli and Ryan James. AREA 5150 was shot in the Mojave Desert and in studios in Los Angeles – although the filmmakers grabbed some shots at the border of the real Area 51 in Nevada!
The film will unleash two new iconic monsters – Ruby Rose (who wields a skull-shaped chainsaw) and Timmy – a mutant killer whose weapon of choice is a flame thrower.
To celebrate their IndieGoGo launch, the filmmakers are releasing  exciting new images.