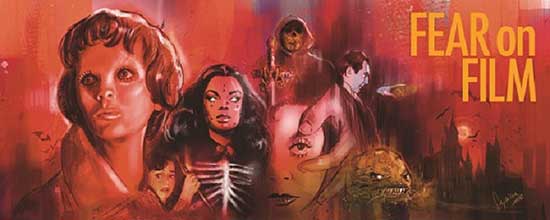 Chris Alexander's
FEAR ON FILM
Returns September 2022 to Sheridan College
Virtual seven week horror film history and theory course begins September 6th
Film director (QUEEN OF BLOOD, NECROPOLIS: LEGION, SPACE VAMPIRE), musician, magazine editor (FANGORIA, DELIRIUM) and author (the upcoming Roger Corman book CORMAN/POE) Chris Alexander's horror movie history course FEAR ON FILM returns for a third semester to Canada's Sheridan College beginning September 6th, 2022.
FEAR ON FILM is a virtual 7-week course, open to any and all curious learners from around the world. The course will give learners a deeper understanding of the weird and wonderful history of the horror genre and its impact on world cinema and culture through a series of lively lectures, group discussions and special presentations.
From the pioneering days of the motion picture to the light, shadow and moral ambiguity of the German expressionist movement; from the global impact of the early American Universal monster pictures of the 1930s to the allegorical science fiction horrors of the 1950s; from the landmark, boundary-pushing, erotic and European influenced works of the 1970s to the 1980s slasher movie boom and beyond. FEAR ON FILM will encourage learners to examine changing trends in genre storytelling and technology and how societal unrest is very often consciously or unconsciously reflected in the movies themselves.
FEAR ON FILM is an ideal entry point for cinema lovers seeking a deeper exploration of the horror genre, as well as a fantastic platform for more seasoned horror movie fans to connect with others through an instructor who has worked with some of the biggest names in the genre.