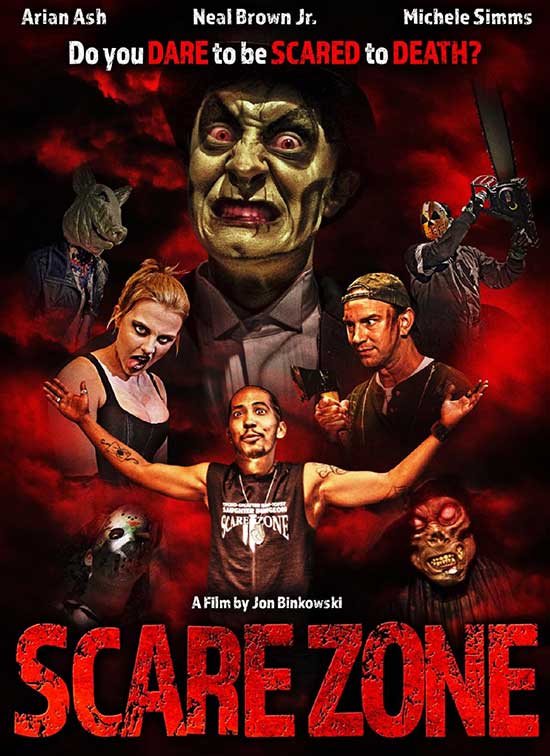 A new feature film experience from the creative geniuses behind such attractions as :
THE BOURNE STUNTACULAR – UNIVERSAL STUDIOS, FLORIDA
EYE OF THE STORM : CAPTAIN JACK'S STUNT SPECTACULAR – SHANGHAI DISNEYLAND
PIRATES 4D! – SEA WORLD
SHREK 4D – UNIVERSAL STUDIOS
FEAR FACTOR LIVE – UNIVERSAL STUDIOS
WATERWORLD : A LIVE SEAR WAR SPECTACULAR – UNIVERSAL STUDIOS
Welcome to Scare Zone, just another strip-mall Halloween Horror House …or is it? From the strobe room to the masked maniacs wielding chainsaws, knives and pitchforks as they chase paying customers through the halls of this haunted maze, it's one good jump scare after another. However, as terrible things begin to happen and people end up dead, the visitors of Scare Zone think it's all just part of the "show"!
From writer/director Jon Binkowski and Terror Films comes Scare Zone, premiering on the Terror Films Channel May 27 and on wide digital and VOD June 3 (worldwide). SEAL Team's Neil Brown, Jr, Arian Ash (Lonely Hearts), Michele Simms (Sex Drive), Jordan Woods-Robinson (The Walking Dead), Chris Burns (Bloodline) and Simon Needham star.
"Ever since I first walked through a Halloween haunted house, I've had the same dreadful thought; "What if a killer has nested in the attraction and, dressed like one of the actors, just walks up and hacks me with an axe… would anyone notice that it's not part of the show?"", says Binkowski. "Then, as I was contemplating shooting my first feature film… an opportunity presented itself.
The Universal Orlando Resort had built an awesome haunted maze right in the middle of one of their sound stages for Halloween Horror Nights. And, because they wanted to feature the attraction in a late November theme park convention, the maze was going to just sit there for 3 weeks doing nothing. That was my chance to answer my own horrifying question! So, my team and I leapt into action! The script practically wrote itself and it was a blast shooting for three crazy weeks on the Universal soundstage. Although I always had that nagging feeling someone was going to leap out and hack me with an axe! "