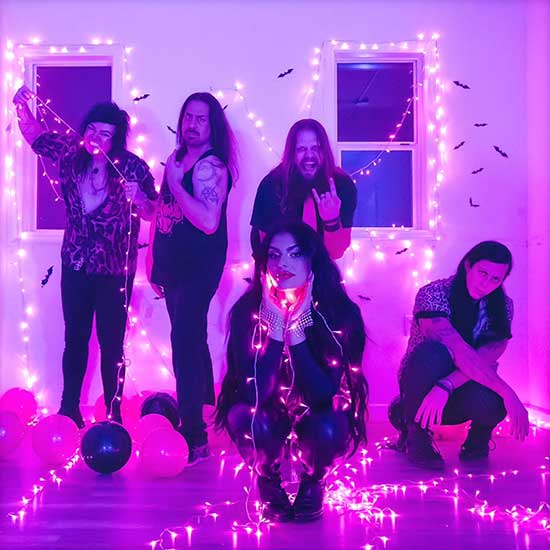 Today THE DEV announces that they will be hitting the road this summer in support of their latest hard-hitting single, "Hell Bent." You can catch them throughout Mississippi, Louisiana, and Texas. All tickets will be available at the door for each show.
"Hell Bent is a song that describes the energy and vibe of us as humans wanting to come out of a dark time and enjoy what is to be human and live in a society again…to have fun, see friends, enjoy time together, and party!!!" – Ryan Danley, Guitarist of THE DEV
THE DEV is a female-fronted hard rock band from Central Florida. The band puts the fan experience at the forefront of everything they do from their unforgettable music to their dynamic and awe-inspiring onstage performances. The band's mission is to wipe away the everyday stresses of life from the moment they hit the stage, leaving audiences relishing the moment and hanging on until the very last note.
The band is composed of lead vocalist Nikollaj, guitarists Ryan Danley & Barrett Jones, bassist John Panaccione, and drummer Chris Caruso. THE DEV showcases a bright new spirit in rock music with rising star and frontwoman Nikollaj. Alongside her are industry veterans who have toured with acts including Heart and Alice Cooper, graced the stages of the Vans Warped Tour, shared the stage with Slash, Avenged Sevenfold, Flyleaf, and Rise Against, and secured their fair share of endorsements, movie placements, and radio spotlights. With no shortage of experience, THE DEV combines their unparalleled rock 'n' roll chops with their bright-eyed spirit of the scene's next generation of powerhouses.
Follow THE DEV for more upcoming announcements HERE and make sure to catch them at one of their following tour dates.
Friday, June 24th @ The Juke Joint  (Ocean Springs, MS)
Saturday, June, 25th @ Last Call (Hattiesburg, MS)
Sunday, June 26th @ The Battlefield Bar (Chalmette, LA)
Tuesday, June 28th @ The Amp Room (San Antonio, TX)
Wednesday, June 29th @ The Deadhorse (San Angelo, TX)
Thursday, June 20th @ Wonder Lounge (Laredo, TX)
Friday, July 1st @ Ridglea Theater (Fort Worth, TX)
Saturday, July 2nd @ 19th Hole Bar and Grill (Spring, TX)