SYNOPSIS:
Unable to turn down a once-in-a-lifetime opportunity to buy their dream house for nothing, Keira and Brian Woods move into a vast, lavish, fully-furnished Irish manor in the city's suburbs. As their sulky teenage daughter Ellie and her younger brother Steven wander around the cold rooms of their eerily-vacant new home, an intriguing wind-up gramophone in the living room suddenly catches their attention. And, without a doubt, there must be more treasures hidden in plain sight. But who knows what lies behind the kids' peculiar behaviour? What dark, hair-raising wonders lurk in the cellar?
REVIEW:
Every once in awhile, a new film comes along that despite the trends and formulas in horror presents an idea in a different way. "The movie "The Cellar" is one such film.
The Cellar is smart, engaging, suspenseful, and full of surprises. Instantly films like "The Dark House", "Darkness", and "A Dark Song" came to mind as films that presented themselves in the the same ways. Not so much similar plots, but as standalones films that took the viewers on a journey with a mission.
2022's movie "The Cellar" is directed and written by Brendan Muldowney who had previously created a 10 minute short tited "The Ten Steps" of which this film is an extension of.
The Cellar stars Elisha Cuthbert in the starring role of Keira Woods, part owner of a marketing firm that she and her husband have been running. Recently they decided to relocate and purchase a older home in need of work priced at a rate they couldn't pass up.
The problem is their kids hate it, and it comes with supernatural baggage. Sure, stop me if you heard this one, but "The Cellar" has meat to it. It presents itself as a ghost story but is actually much more diabolical than that. Actress Elisha Cuthbert is transformed from the usual romantic comedy roles we are used to seeing her in (In fact, she has contributed nicely to a smaller set of horror films over the years.) Though, gone is the blonde bombshell appearance this round we are used to seeing in favor of a much more dramatic motherly role. Elisha does a great job, simply enough.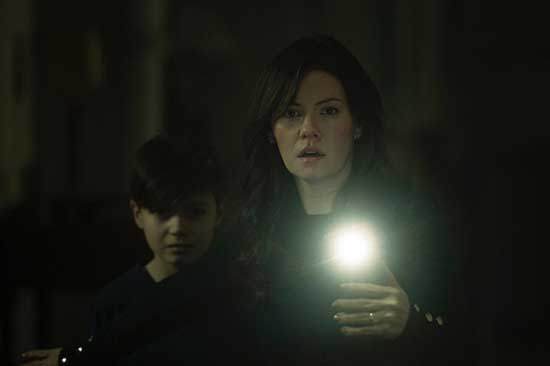 Digressing back to the story, Keira begins to notice symbols, noises, and odd occurrences that point to more than just an house and its quirks. Investigations lead her to the discover details about the former family and the intent of the owner Fetherston who was experimenting with the idea of portals and dimensions. This all happens to be rooted in the fact that her daughter went missing shortly after moving in. Her son, apparently next of the list, is also becoming enchanted by aspects of the house and its rather odd spooky cellar. More importantly is the symbols carved into he steps which point to more than just decorative touches.
Without giving the experience away, the investigation leads to the idea of much darker things attached to the home than anticipated. The film keep us on edge as it delves a bit into math and dimensional talk as Keira searches for meaning to it all, Her husband Brian Woods (Eoin Macken) also becomes pulled into her obsessions about the place and ultimately its darkness.
The 3rd act here is the culmination of it, which is a nice payoff to the story leading up. We get plenty of dread thrown into the mix to make this an exiting experience. I for one enjoyed the non typical ending and (like the films mentioned before) appreciate the effott to do so. "The Cellar" is hands down a keeper, that I'd watch again without thinking about it. All acting talents aboard made for a believable performance about a family in despair.

The film is not perfect, but films rarely are. I think that fans are ultimately looking for the weird expedience combined with intelligence nicely packaged within the horror genre for an original expedience. This is what "The Cellar" provides, so what are you waiting for?