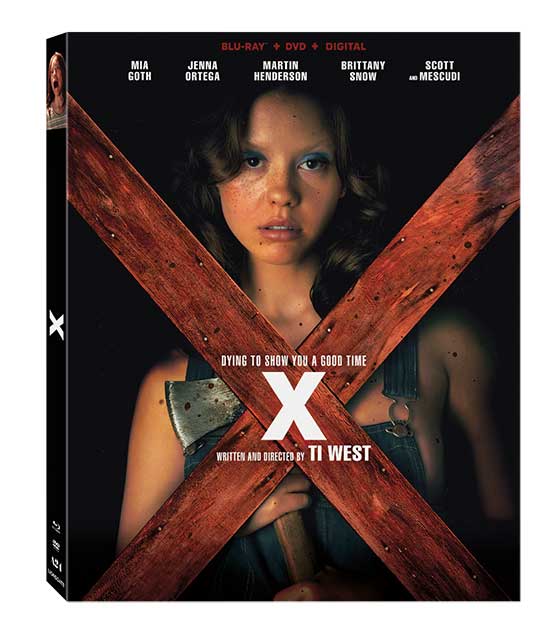 Representing filmmaker Ti West's long-awaited return to Horror, A24's X arrives May 24 on
Blu-ray Combo Pack (plus DVD and Digital) and DVD, from Lionsgate. From critically acclaimed director Ti West (The Innkeepers, The Sacrament), the horror film stars Mia Goth (A Cure for Wellness, Suspiria, Emma.), Brittany Snow (Prom Night, Pitch Perfect, Pitch Perfect 2), Jenna Ortega ("You," 2022's Scream, The Babysitter: Killer Queen) as well as Grammy Award® nominee Scott Mescudi (better known as Kid Cudi, Don't Look Up). X will be available on Blu-ray Combo Pack and DVD will be available for the suggested retail price of $39.99 and $29.96, respectively.
OFFICIAL SYNOPSIS
A group of actors set out to make an adult film in rural Texas under the noses of their reclusive hosts — an elderly couple with a farm and boarding house for rent. But when the couple catches their young guests in the act, the cast finds themselves in a desperate fight for their lives in this tantalizing slasher from writer-director Ti West.
SPECIAL FEATURES
"That X Factor" Featurette
"The Farmer's Daughters" Extended Scene
CAST
Mia Goth                                 A Cure for Wellness, Suspiria, Emma.
Jenna Ortega                          "You," 2022's Scream, The Babysitter: Killer Queen
Martin Henderson                   "Virgin River," "Grey's Anatomy," The Ring
Brittany Snow                         Prom Night, Pitch Perfect, Pitch Perfect 2
Owen Campbell                      "The Americans," "Boardwalk Empire," Super Dark Times
Stephen Ure                           The Lord of the Rings franchise, The Hobbit franchise, "Vegas"
and Scott Mescudi                  Don't Look Up, Grammy Award® nominee, known as Kid Cudi
PROGRAM INFORMATION
Year of Production: 2021
Title Copyright: © 2022 Over The Hill Pictures LLC. All Rights Reserved. Artwork & Supplementary Materials © 2022 Lions Gate Entertainment Inc. All Rights Reserved.
Type: New Release
Rating: Rated R for strong bloody violence and gore, strong sexual content, graphic nudity, drug use, and language
Genre: Horror
Closed-Captioned: N/A
Subtitles: Spanish, English SDH
Feature Run Time: 106 minutes
Blu-ray Format: 1080p High Definition 16×9 (1.90:1) Presentation
Blu-ray Audio: English 5.1 DTS-HD Master Audio™
DVD Format: 16×9 (1.90:1) Presentation
DVD Audio: English 5.1 Dolby Audio