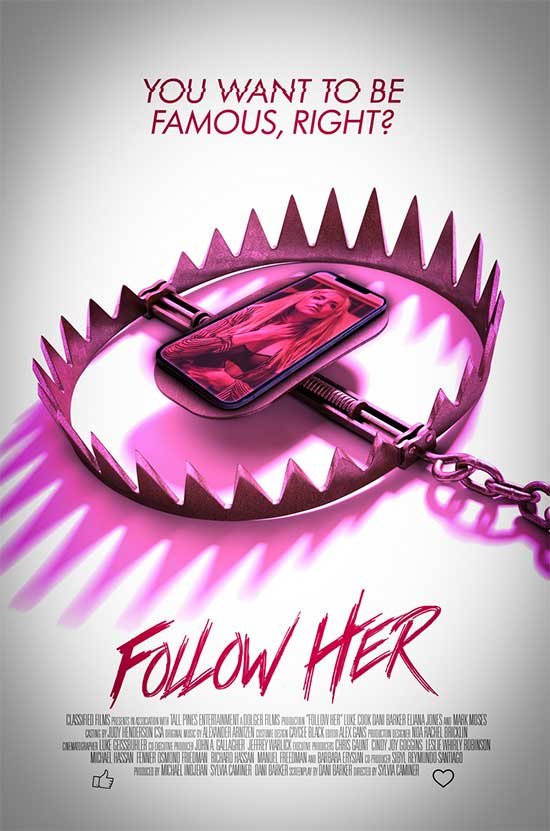 Don't Miss the Female-Created
Psycho-sexual Thriller FOLLOW HER
Having just swept Fantasporto 2022's awards, the intense,
boundary-pushing psychological horror film screens next at
Fantaspoa 2022
FOLLOW HER, from director Sylvia Caminer and writer/star Dani Barker, screens as part of Fantaspoa 2022 and is now available to select press via digital screening link. The thriller, which won Best Picture, Best Actress, and the Audience Award at Portugal's Fantasporto 2022, is being hailed as a true discovery.
The psycho-sexual thriller, which stars writer/producer Barker and Luke Cook (The Chilling Adventures of Sabrina), turns the female gaze upon the seedy underbelly of online streaming – and the danger fame-seekers face when pushing themselves and others too far.
Struggling actress and live-streamer Jess Peters (Dani Barker), known to her online followers as J-PEEPS, has finally found her hook: Secretly filming creepy interactions she encounters via online job listings, and using the kinks of others to fuel her streaming success. For her next episode, she's been hired to write the ending of a screenplay in a remote, lavish cabin. Once there, Tom (Luke Cook), the alluring self-proclaimed screenwriter, hands her a script in which the two of them are the main characters. This client isn't what he seems, and even though the money's great… the real payment here could cost her life.