GRINDHOUSE RELEASING BRINGS DOUBLE TROUBLE WITH 'DEATH GAME' AND ELI ROTH'S 'KNOCK KNOCK'
Grindhouse Releasing is proud to present a special double-feature screening of Peter S. Traynor's classic 1970s psycho-thriller DEATH GAME and the modern remake it inspired, Eli Roth's KNOCK KNOCK (2015).
The special event will take place Saturday, March 26 at the Esquire Theatre (320 Ludlow Ave., Cincinnati, OH). Grindhouse plans to take this terrifying double-feature to more theaters across America in support of its upcoming Blu-ray release of DEATH GAME.
DEATH GAME stars John Cassavetes veteran Seymour Cassel as George Manning, a family man whose perfect life is turned into a nightmare of sex and torture when he allows himself to be seduced by two young strangers (Sondra Locke and Colleen Camp) who show up at his door on a rainy night.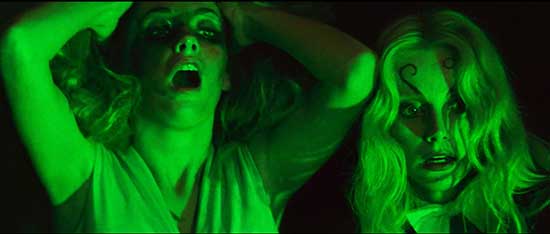 KNOCK KNOCK updates the story with Keanu Reeves starring as the married man who falls prey to temptation opposite Lorenza Izzo (ONCE UPON A TIME…IN HOLLYWOOD) and Ana de Armas (NO TIME TO DIE) as the deranged duo who arrive on his doorstep with a special delivery of seduction and destruction.
Eli Roth says, "I found an old copy of Death Game starring my friend Colleen Camp, and was completely blown away by what an incredible film it was.  I made Knock Knock (produced with Colleen Camp and Sondra Locke) in the hopes people would rediscover what I believe is a lost gem of completely insane and masterful 70s cinema.  The level of talent in front of and behind the camera is staggering, and the film really holds up on every level, especially for the low budget they made the film on.  Death Game is truly one of those movies you have to see to believe – it's that wild.   Both Knock Knock and Death Game never got decent theatrical releases, so I'm thrilled fans can enjoy both on the big screen the way they were meant to be seen." 
Tickets are on sale now: 
ticketing.useast.veezi.com/purchase/247424?siteToken=7wnv3f1p020vdz41kgecxsnrd4
The special collector's edition 2-disc Blu-ray of DEATH GAME, limited to 2000 copies, is shipping this month to customers who order directly from GrindhouseReleasing.com. A mass-market edition will follow later this year. No street date has been set.