HAUNTED: The Audio Drama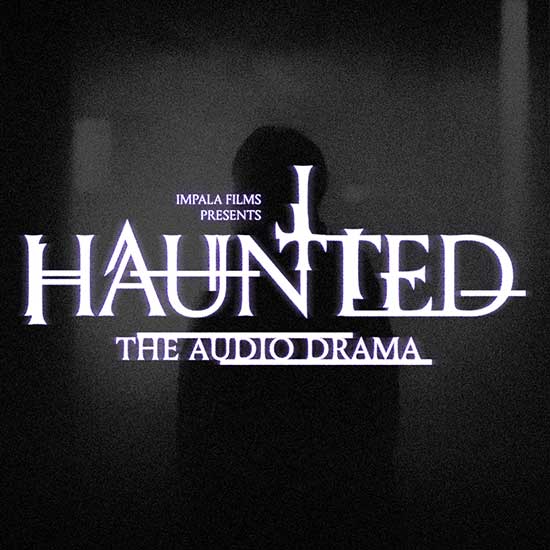 Created By: Jamie Evans
Produced By: Jamie Evans and Benton Hodges of Impala Films
Starring: 
Jamie Evans as James Hunter
Isabella Barbieri as Abigail Corbin
Luke Hunter as Daniel Cowell
HAUNTED: The Audio Drama is the story of Abigail Corbin, a plucky young podcaster who seeks the help of washed-up alcoholic author James Hunter to investigate the unexplained events besieging her hometown. A mysterious radio signal is being broadcast at random times and from random frequencies. It only ever lasts for a few minutes, but everyone who hears it is driven mad by it. The two form a reluctant partnership to try and track down the source of these mysterious broadcasts, investigating other strange cases along the way. Mixing monster-of-the-week stories with an ongoing series arc, HAUNTED: The Audio Drama offers mystery, plot twists, suspense and even some laughs as our unlikely heroes race to discover the source of the mysterious signal.
HAUNTED: The Audio Drama premieres 20th March 2022 and will be available on Spotify, Audible and iTunes. Episodes 1 and 2 will drop on 20th March, followed by weekly releases all the way to the season finale on 30th October 2022.
Whilst initially conceived as a TV series, it was simply too expensive to produce HAUNTED at an independent level and stay in line with our vision for the series. During the lockdowns which resulted from the COVID-19 pandemic, we discovered the medium of audio drama and became big fans of shows like The Black Tapes and We're Alive: A Story of Survival. These shows (amongst others) opened our eyes to the possibilities of audio as a format for our stories and we opted to bring HAUNTED to life in the audio medium.
Jamie Evans and Benton Hodges are the driving creative forces behind HAUNTED: The Audio Drama. We've been working together since 2017 and prior to the pandemic completed filming on our first feature length movie Candy Hart and the Fire of Catalan which is nearing the end of post-production currently. To help us pull off this audio series we teamed up with FreeSprite Media in Essex, UK who provided us with access to their professionally equipped studio space. We couldn't have done the show without the help of FreeSprite and we are incredibly grateful for their faith in us.