A feast of horror and sci-fi films are coming to Manchester for this year's
GRIMM UP NORTH FILM FESTIVAL between the 28th and 31st October over the Halloween weekend.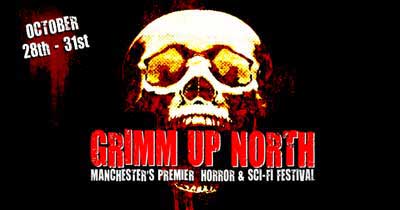 This year's festival will be held at Manchester's Dancehouse and Odder Bar and will feature film premieres, special guests, Q&As, seminars, an exclusive sneak peek at upcoming video game SPLATTERHOUSE, an exhibition of props and prosthetics from famous movies and the 'Breakout Room' – the place to find those rare hidden gems by up and coming talent.
Opening the festival on Thursday 28th October is a double-bill featuring cinema classic THE LAST MAN ON EARTH, with live accompaniment from Animat and new Irish horror, OUTCAST, starring James Nesbitt, Karen Gillan, Therese Bradley and James Cosmo, followed by a cast and crew Q&A.
Further highlights at the festival include; 13 HOURS, starring Hollyoaks' Gemma Atkinson and Harry Potter's Tom Felton, festival favourite cannibal shocker WE ARE WHAT WE ARE, grind house black comedy CHOP, Billy Zane as a mysterious undead-slaying prophet in EVIL: IN THE TIME OF HEROES, new Ozploitation shocker PRIMAL, sexually charged French Giallo AMER and much more!
Closing the festival and on HALLOWEEN NIGHT Zombie Aid will host a Halloween parade through Manchester from 6pm, followed by the GRIMM UP NORTH AWARDS PARTY at the Odder Bar from 8.30pm, where the winners of the festival will be announced. An after party at The Ruby Lounge and The Haunted House Party continues till 3am.
Tickets and Festival Passes are available to buy from www.grimmfest.com
For press accreditation please contact Andy Green at Organic Marketing on
andy.green@Organic-Marketing.co.uk / 0203 372 0982
To avoid fainting, keep repeating 'It's only a festival…It's only a festival…'
Notes to the editor:
The Dancehouse, 10 Oxford Rd, Manchester, M1 5QA
Odder Bar, 14 Oxford Rd, Manchester, M1 5QA
Grimm Up North Gala Opening Night – Thursday 28th October
The Last Man on Earth – With live accompaniment from Animat
Richard Matheson's 1954 novel has been adapted many times for the screen, with actors such as Charlton Heston (The Omega Man) and Will Smith (I Am Legend) taking the lead role. But ten years after it was first published, the story of one man trying to survive in a world of disease-ridden zombies was made with its original title plus horror legend Vincent Price.
To open our festival, the cinema classic will be given a new lease of life with a live soundtrack provided by electronica collective Animat.
Outcast – North West Premiere
Starring James Nesbitt (The Deep), Karen Gillan (Doctor Who), Therese Bradley and James Cosmo, Outcast is a stylish psychological horror which tells the story of a doomed romance between two young lovers, forced to deal with a community obsessed with bringing down a terrifying beast which has been killing local residents. Members of the cast and crew will be with us to answer questions afterwards.
Odder Bar for Opening Night After Party
The Official Festival Selection – Friday 28th – Sunday 31st October
Amer – Northern Premiere
(France/Belgium)
A love letter to the giallo genre and the work of such masters as Argento and Bava, Amer is a film that has been blazing a trail of its very own recently playing to a number of thrilled international festival audiences.
Altitude – UK Premiere
(Canada/USA)
Five teenage friends, including rookie pilot Sara (Jessica Lowndes, 90210), rent a small plane for a weekend getaway. Shortly into the flight, something goes very wrong – the plane won't stop climbing, a storm is closing in and fuel is running out. For everyone on board the horror has only just begun as a mysterious force wants everyone to die… and only one of them has the power to stop it.
Alien Vs Ninja – Northern Premiere
(Japan)
If you like aliens and you like ninjas, well, you know the rest. What would happen if a team of elite Japanese swordsmen came face to face with an army of terrifying bloodthirsty beasties in a beautiful forest location?
Bedevilled – Northern Premiere
(South Korea)
A dark tale of revenge, Bedevilled shows us the life of a young woman who has been beaten down by life and those around her for many years on a small island. A challenging watch during its opening couple of acts, but Bedevilled will give you a climactic release you won't forget any time soon.
The Pack (La Meute) – Northern Premiere
(France)
When Charlotte decided to spice up her lonely trip by picking up Max by the side of the road, she may have been biting off much more than she could ultimately chew. Charlotte soon finds herself face to face with a demonic gang of miners who haunt the local land, feeding on the blood of the living after their own lives were accidentally taken years before.
Chop – UK Premiere
(USA)
A wonderfully trashy grind house late-nighter, Chop is a blacker than black comedy which takes on the world of torture p*rn movies like Saw and Hostel. The directorial debut of Dead Girl screenwriter Trent Haaga, this is a weird little left-field shocker that will nail you to your chair.
Deep Red – New High Definition Transfer
(Italy)
What better way to honour the upcoming high definition re-release of Dario Argento's 1975 classic Deep Red than offering the chance to see it on the big screen? Known to many by its original title Profondo Rosso, this is the film that helped to cement its director as a genre legend.
Dream Home – Northern Premiere
(Hong Kong)
What if you were prepared to do anything to get the house you've always dreamed of? Well, that's the attitude of Cheng Li-Sheung, a young, professional woman who will brutally murder anyone who threatens her investment. We guarantee you've never seen anything like this.
Evil: In the Time of Heroes – English Premiere
(Greece)
A cheeky and innovative new take on the zombie genre that follows the battle between human and zombiekind which has raged for centuries – with hilarious results! Also featuring Billy Zane as a mysterious undead-slaying prophet…this is a film that will split your sides and then eat what falls out.
Fragment
(Australia)
When Lloyd takes photographs of dead people, he can bring them back to life… either that, or he's experiencing hallucinations brought on by the shrapnel embedded in his head. When a dead serial killer and one of his victims are resurrected, Lloyd is forced to save her from the undead murderer – leading to some tense horror and even a little necrophilia romance!
Finale – Northern Premiere
(USA)
After the unexpected death of one of their own, a bereaved family start to fall apart at the seams. What is the truth behind this mysterious world in which nothing is what it seems – and who is the mysterious soul collector who seems to be at the heart of it all? If you like dark, intense, gothic supernatural thrills, Finale will be right up your alley.
Macabre – Northwest Premiere
(Indonesia)
It starts like an urban legend: a newly-wed couple and their friends and family are driving through the woods, when their car is flagged down by a rain-soaked young woman, who claims to have been robbed, and begs them for a lift home. Home, however, proves to be an isolated mansion, and the young woman's freakish family have some uniquely horrible ideas about hospitality…
Primal – Northern Premiere
(Australia)
We all know evil lives in the woods and nature should be treated with respect, but some kids just never learn. In Primal, six teenagers who clearly haven't seen Cabin Fever head out into the wild for a weekend of thrills that typically turn into horrifying chills. A terrifying and primordial evil takes hold turning them into rabid Neanderthals that crave blood and flesh!
The Reeds – Premiere
(UK)
A bunch of 20-somethings head out for a weekend boating trip, but soon find themselves part of a deadly game at the hands of some locals. The group end up way off course and, once deep into the reeds, become easy prey for their pursuers. A great British offering, The Reeds is a wonderfully shot and performed slice of horror that makes the most of a limited budget. Members of the cast and crew will join us for a Q&A.
Reel Zombies – English Premiere
(Canada)
A mockumentary that invites the viewer to watch as a hapless team of film-makers create the third film in their 'Zombie Night' trilogy in a world where the undead really walk the earth! Big laughs, big explosions and big breasts, Reel Zombies is an absolute zom-com gem that is dripping with originality!
Slice – UK Premiere
(Thailand)
Bizarrely combining elements of Seven and Slumdog Millionaire, Slice is a tense and powerful horror-thriller that provides a sucker punch of an ending which will leave you reeling with your jaw on the floor. As intense in its modern day scenes as it is beautiful in its flashbacks, this is a fantastic opportunity to see a movie that truly deserves some serious attention.
13 Hrs – Northern premiere
(UK)
A British horror starring some favourites from the world of TV and film (Hollyoaks' Gemma Atkinson and Harry Potter's Tom Felton), 13 Hrs is the story of a group of teenagers terrorised by a mysterious beast that stalks the grounds of a decaying stately home. Putting their differences aside, they must work together or face being torn limb from limb. Followed by Q+A.
We Are What We Are – Northern premiere
(Mexico)
Already created a fantastic buzz on the festival circuit and will now be heading to Manchester to give North West audiences the chance to see what all the fuss is about. We Are What We Are has been cited by some as having done for the cannibal genre what Let The Right One In did for vampires. Along the way, this family drama goes to some very dark places and combines a rich, engaging plot with some fresh ideas and a heart-wrenching climax.
The Breakout Room
Sweatshop (US)
A brutal horror that makes Saw look like it was produced by Disney.
Chased By Satan (Indonesia)
A darkly funny Indonesian cross between The Ring and Final Destination.
Dead Hooker in a Trunk (Canadian/US)
An underground Canadian grind house movie directed, written by and starring identical twins Jen and Sylvia Soska with bags of punk rock attitude.
The Splat Pack (US)
Documentary featuring interviews with Alexandre Aja (Haut Tension), Darren Lynn Bousman (Saw), Adam Green (Hachet), Neil Marshall (Dog Soldiers), Eli Roth (Hostel) and many more!
Opstandelsen (The Resurrection) (Denmark)
Simon's three siblings gather at his funeral. But all hell breaks loose as the undead rise from their graves, driving the siblings down into the deep dark catacombs below the church.