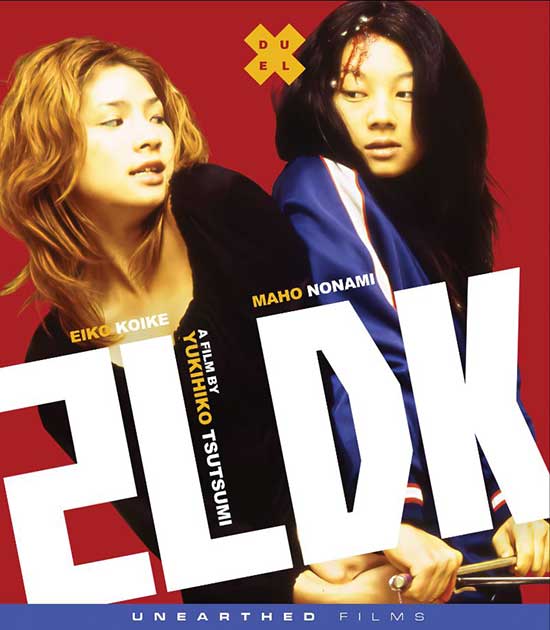 2LDK is available from Unearthed Films April 19, 2022 on Blu-ray (for the 1st time anywhere!) and also on DVD!
2LDK (2003) is an award-winning Japanese film, directed by Yukihiko Tsutsumi as part of the Duel Project, starring Maho Nonami and Eiko Koike.
PLOT:
Two ambitious actresses, who share an apartment, learn they have been short-listed for the same part and that they have to wait for one more night to see who wins the part. As they bicker throughout the night, their competitiveness and hidden grudges turn their apartment into a battlefield.
BONUS MATERIALS
Making Of 2LDK
Promotional Videos and Interviews
Photo Gallery
Trailers
Anyone who's ever had a difficult roommate will relate to this outrageous and violent Japanese comedy. Small town girl Kimi and her glamorous, big city roommate, Lana, share a Tokyo apartment (2 bedroom, living room, dining room, and kitchen, hence the titular abbreviation). They already have their little disagreements, but when it comes to light that they are competing for the same movie role AND the same man, their fights escalate from arguments to all-out power tool battles! Taking place entirely within the confines of the apartment, 2LDK is a thrilling ride for fans of offbeat cinema.
Yukihiko Tsutsumi and Ryûhei Kitamura each finished their contributions to the short film anthology Jam Films (2002) in record time. As a result producer Shin'ya Kawai gave the two directors a proposal to each create a feature length movie with only two actors, battling in one setting and filmed entirely in one week. The undertaking was called the Duel Project. This movie was Yukihiko Tsutsumi's result and Ryuhei Kitamura's was Aragami (2003).