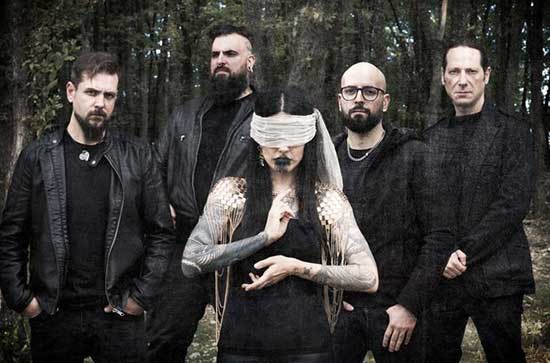 Italian dark metallers INNO – featuring current and former members of FLESHGOD APOCALYPSE, HOUR OF PENANCE, THE FORESHADOWING and NOVEMBRE – have announced the addition of new, second guitarist Riccardo Gioggi into the band's ranks.
"We are happy, proud and excited to welcome to our family Riccardo Gioggi!
Riccardo is an amazing musician and is joining us to enrich and complete our journey together as a guitarist and a songwriter.
This statement is long overdue, as Riccardo has been working with us for a while now and helped shape Inno as it is today. His contribution to the project is above and beyond fundamental.
We can't wait to hit the stage together and release some sweet new material we have in the making".

Riccardo Gioggi added: "I'm very happy to be officially part of Inno, and to be immediately involved in the songwriting process for the next album. There's great musicianship in here, and I look forward to hitting the stage and perform with my new bandmates."
Since the pandemic hit right after our first album THE RAIN UNDER came out, we now feel like we can finally make things right and start getting our music out there properly.
See you all very soon!"
"The Rain Under" was produced by the band and mixed by Marco Mastrobuono and Giuseppe Orlando in Rome. Mastering was handled by renowned Danish producer Jacob Hansen (KATATONIA, VOLBEAT, EPICA). Last but not least, the cover artwork was created by Decline Design.
"The Rain Under" tracklist:
01. Suffocate
02. The Hangman
03. Pale Dead Sky
04. The Last Sun
05. Night Falls
06. To Go Astray
07. Goliath
08. Scorched
09. Misericordia
10. High Hopes (Pink Floyd cover)
Emerging out of the Roman metal scene in 2017, INNO was founded by four veterans with the aim to create something that would differ from their past experiences within the metal world.
After spending a few months exploring their dormant influences, INNO came to shape a dark, doomy, heavy and progressive sound akin to eclectic acts such as Katatonia and The Gathering.
Line-up 2021:
Elisabetta Marchetti (ex Stormlord, ex Riti Occulti) – Vocals, Piano, Acoustic Guitar
Cristiano Trionfera (ex Fleshgod Apocalypse) – Rhythm and Lead Guitar
Marco Mastrobuono (Hour Of Penance, Coffin Birth) – Bass
Giuseppe Orlando (ex Novembre, The Foreshadowing, Airlines of Terror) – Drums and Percussion
Riccardo Gioggi – Guitar
INNO
www.facebook.com/innoofficialpage/
timetokillrecords.bigcartel.com/category/inno
instagram.com/inno_band_official
Time To Kill Records
timetokillrecords.bandcamp.com/
www.facebook.com/timetokillrecords/
www.instagram.com/timetokillrecords/