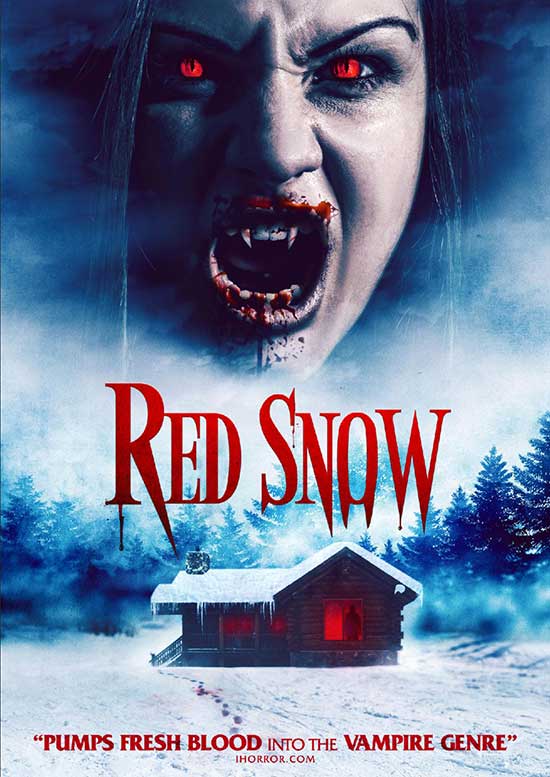 Vampire, Holiday Horror
RED SNOW
Arrives On VOD, Digital and DVD December 28, 2021
When an injured bat transforms into a handsome vampire, struggling horror novelist Olivia Romo hides him in her garage to protect him from a vampire hunter. Besotted by the creature, she feeds him animal blood, but any chance of romance is soon thwarted when a gang of fellow bloodsuckers invade her home in search of their missing friend.
"Red Snow might just be your new favorite vampire movie for the holidays."
– Nightmare on Film Street –
"Pumps fresh blood into the vampire romance genre"
– iHorror –
"A fun and fast paced story"
– Killer Horror Critic –
"Misery meets The Lost Boys"
– Horror News –
"Comfort food for the soul"
– Nightmarish Conjurings –
Release Date: December 28, 2021 (DVD, VOD, & Digital)
Written/Directed By: Sean Nichols Lynch
Produced By: Alrik Bursell
Starring: Dennice Cisneros, Nico Bellamy, Laura Kennon
Distributor: 4Digital Media
Production Company: 26th Ave Films, Bursell Productions, Evolve Media Production
Genre: Horror
Rating: N/A
Language: English
Runtime: 80 minutes
Aspect Ratio: 2.39.1
Audio: 5.1 and 2.0
A struggling vampire romance novelist must defend herself against real-life vampires during Christmas in Lake Tahoe.