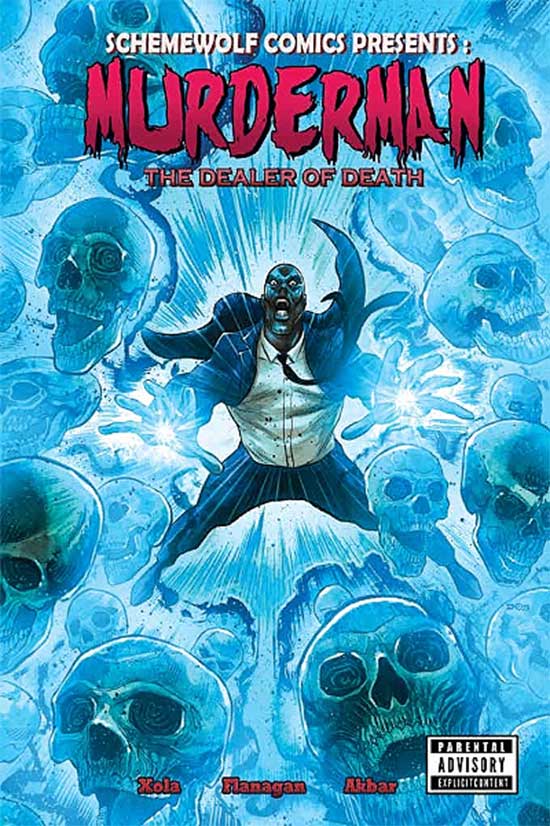 Small press Schemewolf comics and entertainment has made the first issue of Murderman: The Dealer of Death free on their website www.schemewolfcomics.com until the end of their kickstarter campaign. Labeled an "extreme" graphic novel Schemewolf hopes to capture the feel of comics from the '80s and '90s as readers follow Murderman, the bastard son of the Grim Reaper, and a mysterious time influencing drifter in a love triangle with a clairvoyant streetwalker who battles an unknown evil. Murderman must decide who is his true enemy.  Their kickstarter collects the first three issues into a 100-page full-color book that is a mixture of horror, action, and suspense shows how timeless this era of comics truly can be. Donate to the campaign today at www.kickstarter.com/projects/murderman/murderman-the-dealer-of-death-an-extreme-graphic-novel.
Avery Xola
Schemewolf comics and Entertainment
Ceo explains, "We funded early. We know that many folks are concerned about spending their hard earned money and want to give them confidence in the product before committing to the campaign. If they read the first issue they will be hooked, hands down."
Based in Phoenix, Arizona, Schemewolf Comics and Entertainment aims to produce the smartest and edgiest comics while lifting others up at the same time. They offer a range of consulting services to help teach others about the process of making comics.
The official Facebook page for Schemewolf Comics and Entertainment…Home of America's smartest and edgiest comic books and graphic novels.