Taxi is the unsettling story about a woman's ride home with a driver that could very well have sinister intentions.
Inspired by true events, Taxi uncovers the disturbing realities faced by women daily, the threats that lurk around every turn, those uneasy feelings and the danger that comes when they're ignored.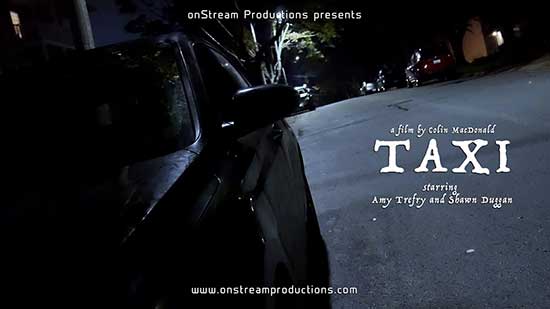 Taxi is the latest short horror film from the team behind the viral sensation Hangnail. Shot and directed by award winning filmmaker Colin MacDonald and featuring a haunting original score by the award winning composer Jerry Smith. 
Starring: Amy Trefry and Shawn Duggan
Written|Produced: by Colin MacDonald & Amy Trefry
Shot|Edited|Directed: by Colin MacDonald
Original musical score: Jerry Smith
Sound Recordist: Josh Owen
Grip/Gaffer: Brent Braaten
Special Effects: Nicole Barron
Behind The Scenes Videographer: Nicole Cecile Holland
Huge thanks to:
Maddi MacDonald
Kevin Morrison
Eva MacGregor
Tim Tracey
This production was made with the generous support of the members of ACTRA Maritimes
Hope you enjoy this creepy short and have a Happy Halloween!