Fever Dream
(Distancia de rescate)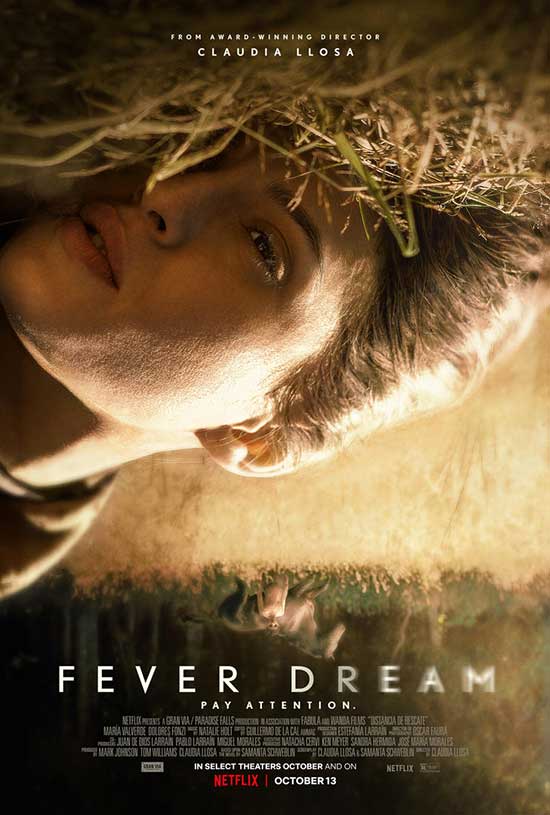 From Award-Winning Director Claudia Llosa & Based on the Internationally Critically Acclaimed Novel by Samanta Schweblin
Release Date: In Select Theaters October 6 | Releases Globally on Netflix October 13
Directed by: Claudia Llosa
Written by: Claudia Llosa, Samanta Schweblin
Based on the Novel by: Samanta Schweblin
Produced by: Mark Johnson, Tom Williams, Claudia Llosa
Co-Produced by: Juan de Dios Larraín, Pablo Larraín, Miguel Morales
Cast: María Valverde, Dolores Fonzi, Germán Palacios, Guillermo Pfening,
Emilio Vodanovich, Guillermina Sorribes, Marcelo Michinaux, Cristina Banegas
Opens in Select Theaters Today, October 6, 2021:
The Paris Theater, New York City
The Landmark, Los Angeles
Los Feliz 3 Cinemas, Los Angeles
Landmark E Street Cinema, Washington, D.C.
Landmark Embarcadero Center Cinema, San Francisco, CA
Landmark Kendall Square Cinema, Cambridge, MA
Landmark Mayan Theatre, Denver, CO
Landmark Midtown Art Cinema, Atlanta, GA
Landmark Renaissance Place Cinema, Highland Park, IL
Landmark Ritz Five, Philadelphia, PA
The Landmark at Merrick Park, Coral Gables, FL
About Fever Dream:
A young woman lies dying far from home. A boy sits beside her. She is not his mother. He is not her child. Together, they tell a haunting story of broken souls, an invisible threat, and the power and desperation of family. Based on the internationally critically acclaimed novel by Samanta Schweblin.
We kindly ask that you please link back to www.netflix.com/FeverDream in your coverage.
#FeverDream
#DistanciaDeRescate
@NetflixFilm
Spanish with English subtitles | 93 minutes