A' INFINITY COMIC NOW AVAILABLE ON THE MARVEL UNLIMITED APP

New 8-part Infinity Comic series follows the SPIRITS OF VENGEANCE: SPIRIT RIDER #1 one-shot 
All-star creative team includes Taboo, B. Earl, Guillermo Sanna, Vanessa del Rey, and Jordie Bellaire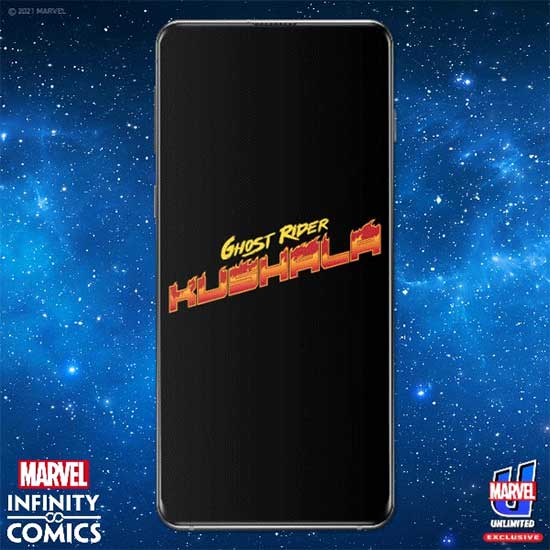 GHOST RIDER: KUSHALA is co-written by Taboo, a founding member of the Black Eyed Peas, and B. Earl, and includes an impressive creative team including artists Guillermo Sanna and Vanesa del Rey and colorist Jordie Bellaire. Read more about the writers here: www.marvel.com/articles/comics/ghost-rider-kushala-infinity-comics-interview-taboo-and-b-earl
New issues of the 8-part series will be available on the Marvel Unlimited app every Thursday.
GHOST RIDER: KUSHALA #1
Writer: Taboo, B. Earl
Artist: Guillermo Sanna
Colorist: Jordie Bellaire
Editor: Sarah Brunstad
She's the Sorcerer Supreme of the 1800s and a Ghost Rider-turned-Spirit Rider — the only one who's managed to tame her spirit of vengeance. But when someone comes after Kushala and her ancestral line, all hell breaks loose. Taboo (of the Black Eyed Peas) and B. Earl join with artist Guillermo Sanna for a wild ride through the past, present, and future of the Marvel Universe—and tell the story of the one extraordinary family who must fight to save it all!
Marvel Unlimited is a one-stop destination for over 29,000 comics spanning the entire Marvel Universe. The app available on For iPhone®, iPad®, Android devices™ and web. For more information on new Marvel Unlimited comics, please visit: www.marvel.com/unlimited.For creator interview opportunities, assets, or preview copies, please contact Hayley Strichman at hstrichman@marvel.com.