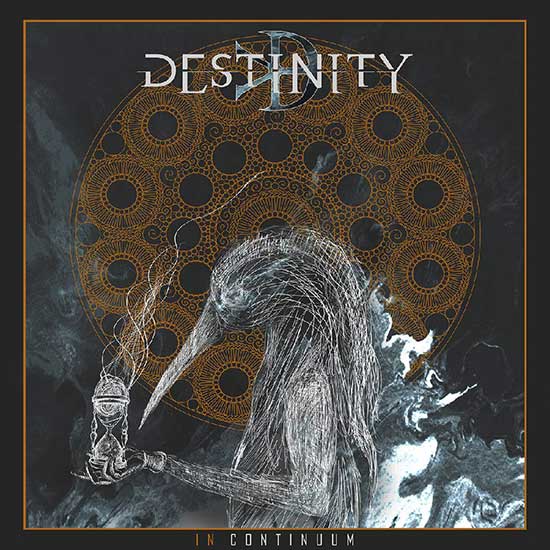 After 3 releases out worldwide via LIFEFORCE RECORDS (Germany), DESTINITY are back with 9 new songs (51mn), offering once again their unique blend of Melodic Death metal.
The album was produced by Destinity in the second half of 2020 and mixed and mastered during December 2020 at BLACKLOUNGE STUDIO (SWEDEN) by Jonas Kjellgren (ref: SABATON, SCAR SYM-METRY, SONIC SYNDICATE, THE ABSENCE, IN MOURNING and many more…).
The album, entitled « IN CONTINUUM », seamlessly moves from punchy, edgy riffs, to catchy choruses, ambient melodies accompanied by orchestrations, and groovy bridges that will surely make your headbang. This blend creates a musical diversity that makes each song a listening experience making the listener travel through different states of mind throughout the track.
"IN CONTINUUM" is surely the deepest and most accomplished album of the band's discography to date.
With just a few notes into this new album, we find DESTINITY continuing in the steps of their latest release "Resolve in Crimson" with their unique breed of Melodic Death Metal combining deep growls, punchy riffs, catchy melodies and powerful orchestration that has been the band's trademark sound throughout the years. A continuity but not a remake! In Continuum must be the band's most sophisticated release to date. Next to blasting drums, frenzied tremolo picking and guttural vocals come ambient sections giving space to rich orchestrations and lush harmonies weaving a somber and brooding atmosphere. Each song depicts a sonic landscape that will take the listener to unexpected places that are surprising yet always coherent, making you want to continue to hear what comes next.
"In Continuum" will be released worldwide on Friday 15th October 2022 through Crimson Productions / Season of Mist.
PRE-ORDERS :
www.crimsonproductions.net
Line-up :
Mick Caesare – Vocals
Stephan Barboni – Rhythm Guitars
Seb V.S – Rhythm & lead guitars, programming and orchestration
David Richer – Bass
Florent Barboni – Drums
WORLDWIDE DISTRIBUTION: SEASON OF MIST DISTRIBUTION
US DISTRIBUTION: SEASON OF MIST US STORE
Origin: France
Music: PROGRESSIVE MELODIC DEATH METAL
Production: Mixed & Mastered by JONAS KJELLGREN at BLACKLOUNGE STUDIO (Sweden)
Cover and Artwork : Francesco De Luca (Amok Studio).
GUEST APPEARANCE: guitar solo on "Dawn never breaks" by ANDY GILLION (MORS PRINCIPIUM EST)
!!! PLEASE NO REVIEWS BEFORE THE 15th AUGUST 2021 !!!
CONTACT :
Interviews / Reviews / other features
Cátia Cunha catia@againstpr.com
Follow :
www.destinityofficial.com
www.facebook.com/destinityofficial
www.instagram.com/destinity_band
www.destinity.bandcamp.com/merch