AGGRESSION (ca) sign with Xtreem Music;
1st song, cover art and tracklist for new EP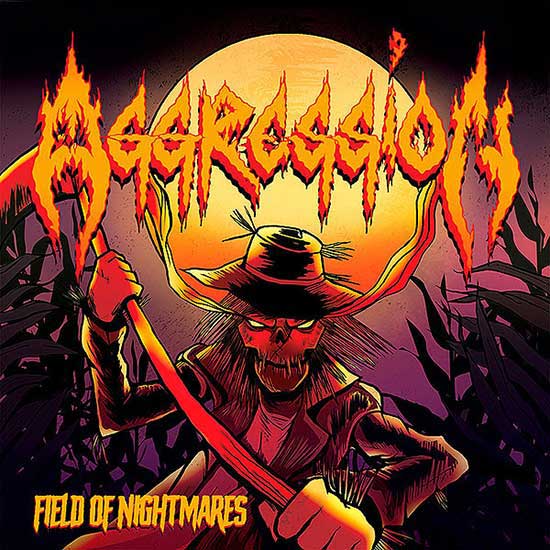 At Xtreem Music we are congratulated and more proud than ever have again in our ranks the legendary Canadian thrashers AGGRESSION, who we already released their 3rd album in 2016, and we re-released their classic debut from '87 that same year and now come back to sign with us for the release of their brand new EP "Field of Nightmares", as well as their next album, and different re-issues more. The new EP will be released on CD and Digital formats on October 26th, through Xtreem Music, and most probably also in vinyl format later on.
Formed in 1984, AGGRESSION are without a doubt one of the most legendary Thrash Metal bands from Canada. Their (official) debut album "The Full Treatment" is a classic of the genre, although actually their 1st album "Forgotten Skeleton" was recorded in '86 and remained unreleased until 2004. The band did split up in '89 until in 2014 they officially formed and since then they have released two albums ("Fragmented Spirit Devils" in 2016 and "Feels Like Punk, Sounds Like Thrash" in 2018), a compilation with their demos and this new EP "Field of Nightmares", which will lead to their next 5th album in 2022.
The tracklist for "Field of Nightmares" is as follows:
1. Filtering Doom
2. Poisonous Potion
3. Satanic Angel Holy Devil
4. Possessed by Dawn
5. Dripping Flesh
6. Gambolling With the Undead
The release date for "Field of Nightmares" will be October 26th through Xtreem Music on CD & Digital formats. You can visit AGGRESSION's official Facebook here: www.facebook.com/Aggression85 and listen to the 1st advance single on the following link:
youtu.be/mwuxdtsMrRk