DEADLIFE Adds Dystopian Flavor To LeBrock's "Hollow"
Remix Out Now Via FiXT Neon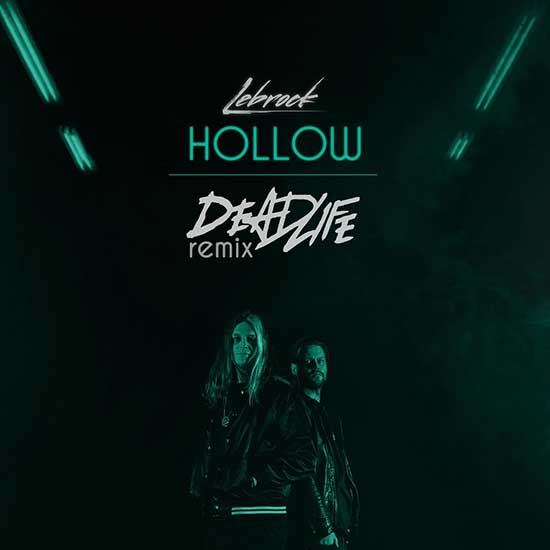 Melodic rock merges with dystopian sci-fi sonics on DEADLIFE's explosive new remix of LeBrock's "Hollow." The track's spirited vocal lead takes on a new dimension in front of DEADLIFE's powerful percussion and gritty, otherworldly atmosphere.
"LeBrock are good dudes so I was pleased they wanted me to remix a track. The vocals were dope on the original so I just lifted the vocals out and made a new track out of them, probably my fave remix I've done so far." – DEADLIFE
The DEADLIFE remix of "Hollow" is out now on all platforms from independent retro synth label FiXT Neon.
Hailing from Manchester, DEADLIFE, a.k.a. Ed Hawx, has been producing electronic music since 2012, and has proven to be a hugely prolific artist, releasing eight full-length albums since 2017. Originally a drummer, he became inspired by electronic music and the soundtracks he enjoyed, such as Akira Yamaoka's Silent Hill music, Vangelis' Blade Runner (Music From The Original Soundtrack), and video games such as Metal Gear Solid and Nobuo Uematsu's Final Fantasy OST. He is a self-taught producer with a real mastery of his machines and software and has become one of the most exciting and influential names on the scene driving synthwave forward with his penchant for the cyberpunk, shadowy end of the spectrum that has become known as darksynth. Building on the traditions of Vangelis, Underworld, and Daft Punk and taking them far into the future with his own sense of style, DEADLIFE appeals to anyone who loves dark melodies and hard-hitting electronic beats.
Combining '80s melodic rock riffs with shimmering synthwave melodies and a heartfelt vocal delivery, LeBrock have established themselves as uniquely compelling artists unlike anyone else in contemporary music.
The retro rockers' first EP, Action and Romance, was a synth-heavy fan favorite that has earned millions of Spotify streams to date. The group followed it up with a more rock-oriented, vocal-driven EP, Real Thing, which was packed with fist-pumping retro anthems including the hit song, "Runaway." The early success of the first two recordings caught the attention of retro synth label FiXT Neon, which signed the group to a multi-album deal and re-packaged and re-released the first two albums in the process.
LeBrock's new material kicked off with a string of singles across 2019 and 2020, each one demonstrating the bands' unmatched capacity for timeless, hook-heavy anthems. With each new song, LeBrock has refined and honed their skill set, combining the best of '80s melodic rock with throwback synths and a contemporary production edge for a sound that feels larger than life which culminated in the release of their first full-length album Fuse in June of 2021.