DEIMLER 1st song, cover art and tracklist for the new album!
Spanish Death Metal band DEIMLER, has just revealed the cover art, tracklist and first advanced single from their 1st album entitled "A Thousand Suns", which will be released on October 19th, through Xtreem Music on CD, 12″LP, Cassette and Digital formats.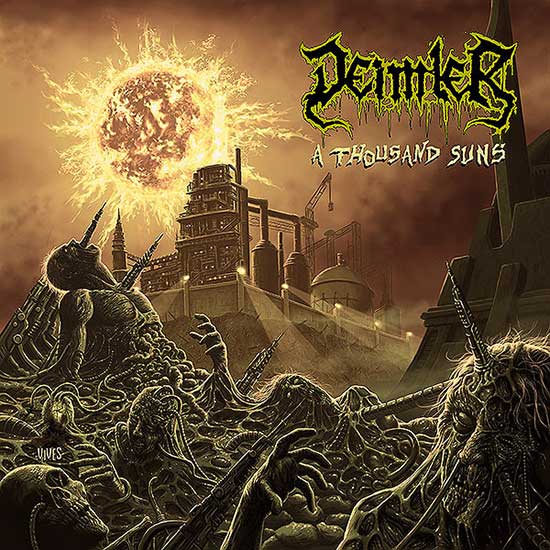 The origin of DEIMLER dates back to 1998, dissolving in 2002 until in 2018 it was reactivated through one of its founding members, Pako Deimler (Funëdeim) on guitar/ vocals, who is also active in bands such as FAMISHGOD, DIMENSSION, ITNUVETH and several more. The band's debut EP "Zeron One" was released in 2020 through the Chinese label Awakening Rec. and had an excellent reception in the underground scene with its style of heavy and brutal yet melodic and catchy Death Metal with strong roots in the sound of the Finnish and Swedish schools of late '80s and early '90s with influences from bands like DEMILICH, CARNAGE, ADRAMELECH, DISMEMBER, AVULSED, FUNEBRE, NECROPHILIAC, ENTOMBED, CARTILAGE, DEATH, OBITUARY, GRAVE…
During the first half of 2021, DEIMLER has been working on the recording of their first full-length "A Thousand Suns", which was recorded and mastered at Moontower Studios and with cover artwork by José Vives.
The tracklist for "A Thousand Suns" is as follows:
1. A Thousand Suns
2. Blessed All Forms…
3. The Chosen One
4. Skull's Smiling
5. Nebuchadnezzar
6. The Sentinels
7. The Architect…
8. …And the Oracle
9. Tenth Masters Sections (Outro)
The release date for "A Thousand Suns" will be October 19th through Xtreem Music on CD, 12″LP, Cassette & Digital formats, as well as limited T-Shirts. You can visit DEIMLER's official Facebook here: www.facebook.com/DeimlerDeathMetal and listen to the 1st advance single on the following link:
youtu.be/B1iooXkDl9M