NORWAYS MOST GROTESQUE HORROR

Danse Macabre is pleased to announce the US release of extreme horror LUST which has been described by critics as "Norways most grotesque horror movie ever". The DVD is available to buy from August 12th 2021 and the digital release will be announced in September.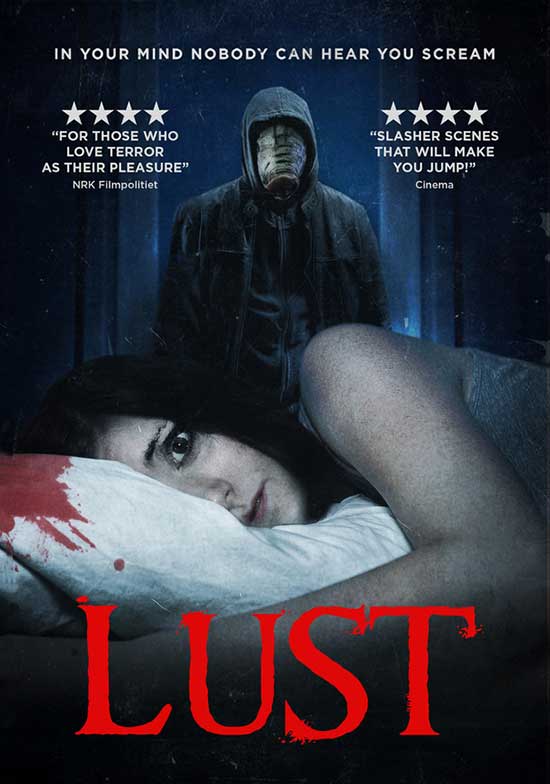 A famous crime writer becomes a victim after a crazed fan brutally attacks her. Isolated in her apartment she tries to recover but continues to feel threatened after experiencing strange events. Her psychiatrist believes that it's all in her mind, a result of post-traumatic stress, but convinced that her attacker is stalking her she resorts to extreme violence to protect herself.
Directed by Severin Eskeland (Detour) and starring Magdalena From Denis, Sondre Krogtoft Larsen and Damian Gallagher, this unique blend of ultra-violent giallo and Nordic noir thriller made a splash on the festival circuit with screenings at Fantasporto – (Portugal), Bloody Weekend (Denmark), Weekend Of Fear (Germany), Night Visions (Finland) and Dublin Horrorthon (Ireland).
"From the very first moment, LUST

gets under your skin and stays there"
Net News ★★★★★
The DVD contains a variety of extras including a unique Behind The Scenes Featurette which reveals the practical techniques used to create some of the films most bloody and eye watering special effects.
For fans of A Serbian Film and The Bunny Game, LUST is not for the nervous.
LUST – Trailer from Jinga Films on Vimeo.